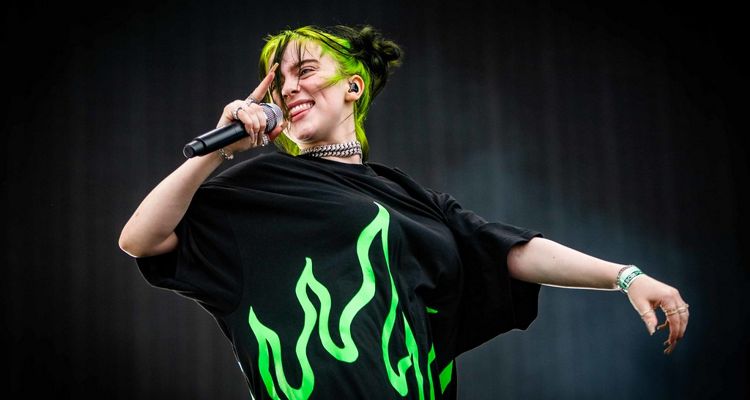 The most popular concert tickets, tour stops, and artists around the country, based on SeatGeek data through Wednesday, March 18th.
Welcome to our weekly report on the world of live music, based on exclusive data from SeatGeek, a ticketing platform that enables fans to buy and sell tickets for sports, concert, and theater events. Read on for insights into the most popular artists and festivals from the prior and upcoming weeks.
Most Popular Artists and Festivals
Past Week, Based on SeatGeek Web Traffic
1. Billie Eilish (Rank last week: 2)
Although Billie Eilish just kicked off her "Where Do We Go?" tour last week, she is unfortunately being forced to cancel due to coronavirus concerns. Stay tuned for her updated tour dates as they are announced.
2. Harry Styles (Rank last week: 6)
You know what hasn't been cancelled? Harry Styles' Herryween concerts. Set for October 30 and 31 at Madison Square Garden, the concerts are dubbed a "fancy dress party" and feature Orville Peck as a performer.
3. BTS (Rank last week: 4)
BTS is slowly being forced to postpone their "Map of the Soul World Tour." The Asian and European legs have already been moved, and now their upcoming North American dates are being threatened as well. The dates will surely be rescheduled, so stay tuned.
4. Post Malone (Rank this week: 3)
Post Malone continues to truck along on his neverending "Runaway Tour." Unfortunately, the coronavirus has other plans. The musician has been forced to reschedule his tour — stay tuned for the updated dates at a later time.
5. The Weeknd (Rank last week: 7)
One tour that hasn't been cancelled (knocks on wood) is The Weeknd's "After Hours tour." Set to kick off on June 11 in Vancouver, the trek will see the performer at cities all across North America through September 3.
_____________________________________________________________
SeatGeek "Rising" Artists and Festivals
Past Week, Based on the Percent Increase in SeatGeek Web Traffic

1. PRETTYMUCH  +74%
PRETTYMUCH will join Camila Cabello on select "Romance" tour dates this year. The North American leg of shows begins on July 29 in Vancouver, BC and wraps up on September 26 in Miami at the AmericanAirlines Arena.
2. Shania Twain +5%
Shania Twain has been forced to cancel her Las Vegas residency due to the coronavirus pandemic. Fans with tickets to said shows should hold on to them, however, as they can be redeemed for the rescheduled dates.
3. Niall Horan +11%
Niall Horan just released his new album, "Heartbreak Weather." Although you won't be seeing him live anytime soon, you'll definitely have time to learn all the lyrics to his new songs when you're at home with nothing to do.
4. Why Don't We: +16%
Why Don't We just announced that they would be cancelling upcoming shows amid the COVID pandemic, and instead take the beginning of 2020 off to focus on writing and producing their next studio album. Stay tuned!
5. Erykah Badu: +24%
For just $1 per person, Erykah Badu will be hosting a "Quarantine Concert Series" from her bedroom, citing "the show must go on."
_____________________________________________________________
Most Popular Upcoming Tour Stops and Festivals
Upcoming Week, Based on SeatGeek Ticket Sales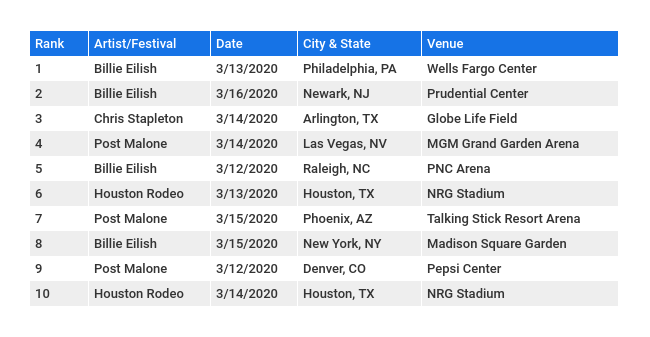 Literally everything is cancelled in the live event world, which means this list serves as more of a memoriam than an indication of the hottest concerts. Unfortunately, fans will not have the pleasure of seeing Billie Eilish in Brooklyn, Boston, Chicago or Detroit this week. They will also not be seeing Post Malone in San Francisco, or Billy Joel at his New York City Madison Square Garden residency. The Houston Rodeo, a staple of Texas year after year, also cancelled their second week of events.