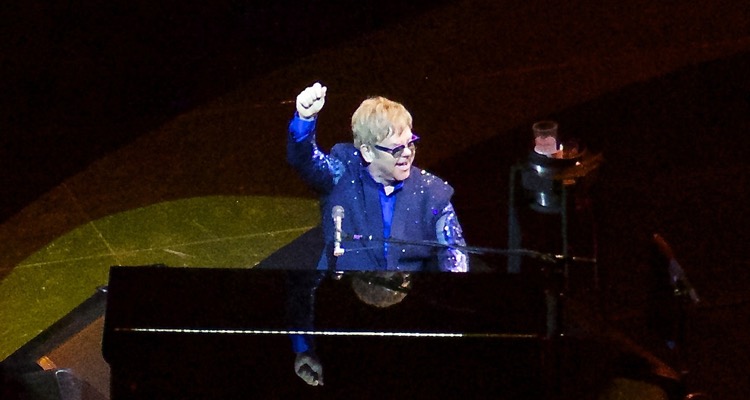 Elton John is announcing a new $1 million COVID-19 emergency relief fund for those living with HIV.
John made the announcement via Twitter through the Elton John Aids Foundation. "For almost 30 years, my foundation has prioritized the most vulnerable people to HIV, to end the AIDS epidemic," John said in a video. "We're committed to this during the COVID-19 crisis, too."
The singer says those living with HIV may be struggling to receive medicine and preventative treatments. "Our new COVID-19 emergency fund will help frontline partners to prepare for and respond to the pandemic and its effects on HIV prevention and care for the most marginalized communities," the singer explains. "We're with you, we're thinking of you, we will not leave anyone behind."
Elton John hosted a coronavirus relief concert last week in partnership with Fox and iHeartRadio.
The March 29 event featured call-in concerts from numerous performers, including Billie Eilish, Mariah Carey, Alicia Keys, Tim McGraw, Dave Grohl, and more. The concert has raised over $10 million to help fight the coronavirus pandemic. All artists performed from their own homes, lending the show a uniquely personal feel.
Today, I'm proud to announce that my Foundation @EJAF is launching a $1million COVID-19 Emergency Fund to make sure that our frontline partners can respond to the effects of COVID-19 on HIV care for the most marginalized communities around the world. pic.twitter.com/g4wh9dnd3d

— Elton John (@eltonofficial) April 4, 2020
Over the weekend, U.S. coronavirus deaths surpassed 10,000 total across the country. Surgeon General Jerome M. Adams warns this could be "the hardest and saddest week of most Americans' lives." New York remains the hardest-hit state in the nation, though Governor Andrew Cuomo says the curve may be flattening.
Coronavirus relief efforts for musicians are available through the MusiCares emergency fund.
Impacted musicians are encouraged to apply for grants of up to $1,000 to help with essential expenses. Other indie musicians are turning to live streaming on Twitch as a way to support themselves. A partnership with SoundCloud allows artists to fast-track their Twitch accounts to affiliate status.