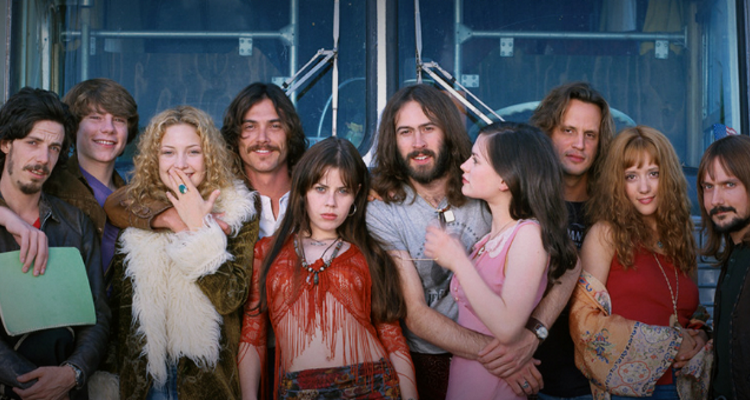 The Almost Famous cast is back together to celebrate the 20th anniversary of the classic film.
Big reunions are frequently disappointing, so let's see how this one goes.  But the cast of Almost Famous — Kate Hudson, Billy Crudup, Frances McDormand, Zooey Deschanel, Jimmy Fallon, Patrick Fugit, Jason Lee, and others — is now banding together for a five-part podcast series. Peter Frampton and Nancy Wilson will also appear.
The reunion will be baked into a podcast series. Origins: Almost Famous Turns Twenty will be hosted by James Andrew Miller, and writer-director Cameron Crowe will also be on hand to discuss the film. For those unfamiliar, the film is a semi-autobiographical account of Crowe's career as a writer for Rolling Stone.
"Between his personable style, and the exhaustive research behind his wonderful questions, Jim Miller managed to summon all the spirit and emotion of Almost Famous with the original cast," Crowe says in a statement. "It's a little bit of a magic trick. He put the band back together."
Host James Andrew Miller will try to dredge up revealing details from the Almost Famous cast members.
Miller is an award-winning journalist and bestselling author, so hopefully, he'll pry some interesting tidbits for longtime fans. The podcast series Origins focuses on uncovering the beginnings of success stories in the entertainment world. It has explored the realms of TV, movies, sports, music, and business. Previous chapters of the podcast have focused on ESPN, Curb Your Enthusiasm, and Saturday Night Live.
"It's easy to argue this is one of the greatest films of the past quarter-century," Miller says. "It was on my Mt. Rushmore of movies to share with my daughter. What I wasn't expecting, however, was that Cameron and the cast would remember so much and be so keenly affected by the experience of making a film together."
The podcast episodes will be available starting July 8th.