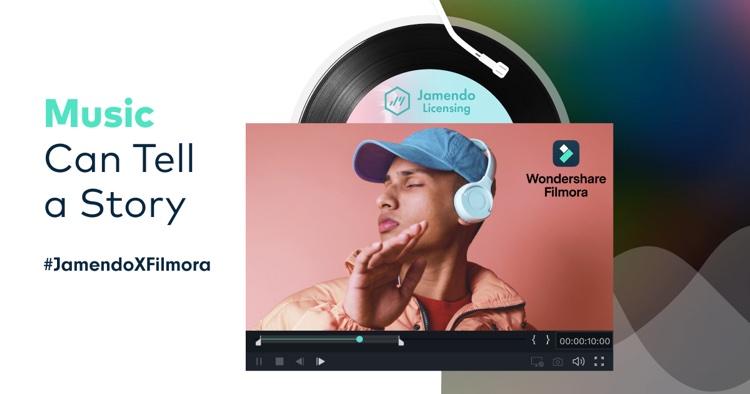 Both companies team up to launch a special contest for filmmakers.
The following article comes from Jamendo, a proud partner of DMN.
Jamendo Licensing and Filmora are launching today a contest focused on filmmakers, video editors and content creators. The goal of #JamendoXFilmora is to provide users with the best tools to create a unique story: high-quality music and powerful video editing software. Three winners will get the exciting prize of yearly subscriptions to both Jamendo Licensing music library and Filmora video editing software for free.
As the main cause, the initiative prays "Music can tell a story". With that in mind, Jamendo Licensing  — one of the biggest players in the music licensing business — is providing entrants with a pool of 30 high-quality royalty-free tracks. Participants will find different moods and genres carefully hand-picked by Jamendo's music experts, from Epic, to Lo-fi, Acoustic or Electronic among others.
To be eligible for one of the 3 incredible prizes, contestants must edit their video using Filmora video editing software and synchronize it with at least one of the tracks provided by Jamendo Licensing. For that purpose, entrants will get free access to the assets after registering for the contest. The videos must be uploaded to the participant's YouTube channel with the tag #JamendoXFilmora until November 16th.
"Music is an inherent part of the video creation process, and we are delighted to be part of this initiative," commented Jocelyn Seilles, General Manager at Jamendo.
Both companies are encouraging video creators to participate in this contest until November 16th. More information and registrations here:
About Jamendo
Jamendo is a pioneer music website and currently one of the biggest music platforms supporting unaffiliated, independent artists by offering them a global DIY space to display and sell their creations.
With a music library of over +240,000 royalty-free tracks and more than 9,000 artists, Jamendo Licensing makes music available for synchronizing audiovisual projects (film, TV, advertising, web & corporate videos, video games, apps, etc.), through different music licenses and subscriptions.
Jamendo Licensing provides filmmakers and content creators with high-quality music with all rights included. While doing that, it supports artists to keep creating excellent music by giving them a fair share of the revenues.
About Filmora (Wondershare)
Established in 2003 and located in Shenzhen, adjacent to the international financial and trade center Hong Kong, Wondershare has extended its business worldwide, consistently dedicated to satisfy customers with diversified consumer software products and services.
Wondershare Filmora is a video editing software that uses a delightfully intuitive design that makes it easy for anyone to become a great video editor. Wondershare Filmora is a video editing software that enables users to create amazing videos efficiently using the wide range of powerful editing tools.
https://filmora.wondershare.com/