Nicki Minaj tweeted she would not attend the Met Gala due to vaccine requirements – along with a healthy dose of misinformation.
Monday night, Minaj revealed she wouldn't be at the Met Gala in a tweet. "They want you to get vaccinated for the Met," she tweeted. "If I get vaccinated it won't be for the Met. It'll be once I've done enough research. I'm working on that now. In the meantime my loves, be safe. Wear the mask with 2 strings that grips your head & face. Not that loose one," the rapper continues.
Nicki Minaj could have stopped there, but she decided to share why she's not getting the vaccine.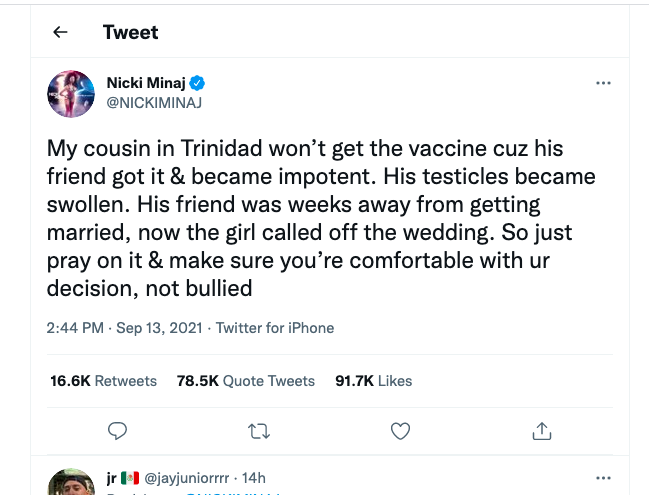 "My cousin in Trinidad won't get the vaccine cuz his friend got it & became impotent. His testicles became swollen. His friend was weeks away from getting married, now the girl called off the wedding. So just pray on it & make sure you're comfortable with your decision, not bullied."
Now public health experts are scrambling to explain this is how misinformation about vaccines spread. Dr. Leana Wen says impotency is not a known side effect of any of the COVID-19 vaccines currently authorized by the FDA in the United States.
In fact, Dr. Wen says 'scrotal swelling' is associated with COVID-19 itself, not the vaccine. "There has been an association between scrotal swelling and congestion to having COVID-19. So, to emphasize, these are not associated with the vaccine but with the disease," Dr. Wen told People.
She goes on to criticize influential members of society like Nicki Minaj who spread vaccine misinformation.
"More than 80 million Americans have yet to receive the COVID-19 vaccine. Many of these individuals have heard misinformation about the vaccine and are understandably scared as a resul. It is extremely harmful to them to have influential figures, including celebrities with a large social media following to perpetuate this misinformation."
Nicki Minaj has faced a massive backlash for her vaccine misinformation tweets – but she clapped back against MSNBC's Joy Reid.
Joy Reid called out Minaj during her show. "As a fan, I'm so sad that you did that," Reid told Minaj. Minaj responded to Reid's comments via Twitter, saying Reid is spreading a "false narrative about a black woman."
Twitter has established guidelines about spreading vaccine misinformation, but Minaj's tweets remain up. A spokesperson for the platform said that Minaj's tweets do not violate the company's policy.