It is no secret that music requires a lot of storage space. It seems that pCloud has a word or two to say about more convenient ways to make music.
The following article comes from pCloud, a proud partner of DMN.
It is the music industry and accomplished professionals that discovered pCloud as an amazing way to organize your entire digital music life into one secure space, while having the freedom to access and share your music anywhere you go, anytime, from any device. Effortlessly, they say.
pCloud is a professional Swiss company, gaining popularity as a niche quality- driven cloud storage service, relying on its robust security and collaboration tools, about which we will talk later. Many state that pCloud is the better alternative to Dropbox, while pCloud representatives remain modest and focus primarily on making their product better for their loyal members.
It is their community that helps them grow and succeed in their constant desire to improve and find new innovative ways to simplify data protection and transfer.
pCloud has affinity to musicians which is proven by the rising numbers of professionals using it. This cloud solution offers robust security which you can get for a Lifetime, treating your files with unbreakable encryption. One of the company values is the belief that giving is receiving. The Black Friday deal this year gives a new meaning to this statement, while the expected Cyber Monday helps you save more than $1000.
pCloud and Music
Simplicity is key in the music industry. Not only for the sound design or structure of a certain song, but in the creative process as well. Why focus on unwanted technical tasks when you could be using your creativity for your music?
It seems that pCloud complies with this ultimately, especially since many accomplished producers have started using pCloud as their main collaboration tool.
What does an artist need to make great music for their audience?
Storage space and accessibility
The modern digital aspect of music creation requires too much storage space. However, most of it comes from external drives, which often seem unreliable or obsolete, due to their lack of functionality. Regardless if you are a casual musician, sound designer, beatmaker or a singer, your personal device (most probably a Macbook) does not have enough space to support all components for making music.
pCloud comes with up to 10GB of free storage space, with a rich variety of upgrade options. The most popular pCloud quota users avail of is the 2TB space, available in their Premium Plus plan. You can get it by starting a monthly or yearly subscription, as well as by paying only ONCE to get set for life, without bothering with managing subscriptions.
pCloud works on ALL devices. Imagine having 2TB (or more) additional space on your laptop, instantly solving all your storage problems. Imagine keeping your data accessible from your desktop, as if it was stored locally, without taking any of your local space. All of that is possible with pCloud Drive- the Desktop app. It works as a virtually mounted drive, that makes all data you store in it look as if it is stored locally. This is because pCloud Drive keeps the folder structures and combines smoothly with your OS. Your files in pCloud Drive appear just the way they look in the Browser Interface.
Professional artists care about their unique sounds and often have specific Drum kits, loops, samples and VST or plugin presets. All these gems can be stored in the most convenient way in pCloud.
Achieving this could not have been made simpler- just drag and drop your files into the desired Folder. Keeping everything simple and organized could be beneficial for your creative process. Simply, start your DAW, drag your vocals or guitar track from pCloud Drive to your open project and let the magic happen.
Have you lost your progress due to DAW crashes? Every producer knows the feeling when you spend a day working hard on your track and end up losing it all because of technical issues or your DAW crashing. pCloud has thought about this as well. pCloud Drive comes with an amazing feature, called "Sync". With it, you can simply Backup any folder, for example, your Project folder, and create a mirrored connection between your local space and pCloud.
In other words, if you Sync your latest Project, all of its components would be safely backed up on the cloud, making sure that you always have an up- to- date version of your files, even if your project crashes or gets corrupted.
Collaboration with other artists
Working with others is fun, beneficial and almost a MUST nowadays. With COVID stepping in, musicians could not go OUT or meet in studios so often. pCloud solves the social distancing problem, making the work process feel as if you are working with your partners in the same room. The solution comes from the variety of customizable sharing functionalities.
You can invite your partners to work in a mutual folder, or generate a share link to your Synced project folder for your colleagues.
Protection of their project and intellectual property
Assign an expiration date or password protection to your shared links with your Demos. This way, you can control who listens to your next hit!
Authenticity & audio player
pCloud has Branding, which allows you to personalize your shared links with your own cover, title image and message. With pCloud's native music player, you are able to detect the metadata of your audio files and sort them by artist and album, while being able to create personal albums for you to share with others.
Unbreakable Encryption for a Lifetime
Trusting your files to someone else requires certain reassurance.
pCloud has military- grade state of the art unbreakable encryption in their Crypto Folder with its client- side encryption. Even pCloud employees cannot access the files you store in it, because the encryption key is stored on your local device, as you upload your files. The fact that the rest of your data is also protected with server- side encryption makes pCloud unhackable. It works as an add- on to your account, which can be purchased for a Lifetime or subscribed to monthly/ annually.
Music requires dedication and long- term commitment. It is that very special percentage of people who find joy in delayed gratification, who succeed in this journey. pCloud agrees with this and has the ultimate Backup solution- their Lifetime plan. Pay once and make sure your most important asset nowadays- your information, has the necessary protection.
Black Friday & Cyber Monday Deals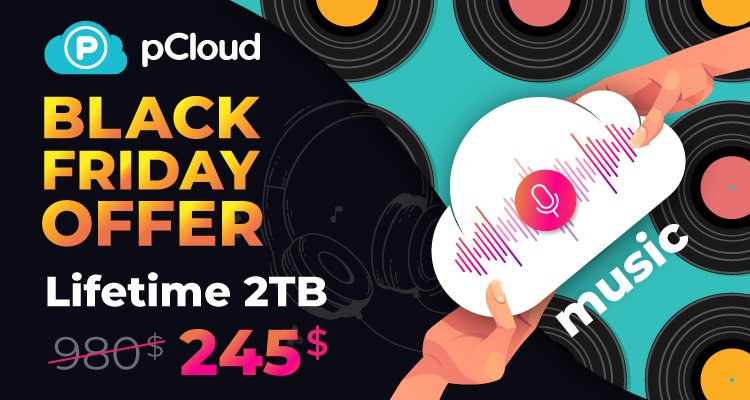 Covering pCloud today is not arbitrary, since there is much to be said about their pricing system, with special emphasis on their Black Friday and Cyber Monday deals, which prove to get better every year. 
pCloud has amazing deals for their top- selling and highest in demand product- the Lifetime plan. Presenting the Industry- first Lifetime plan, pCloud generated a lot of trust and placed itself in a special position in the cloud market.
Black Friday starts on November 21st and gives 2TB Lifetime storage 75% OFF the usual price- $245 instead of $980. If you already have a Lifetime plan, you can simply upgrade by "stacking" your Lifetime storage.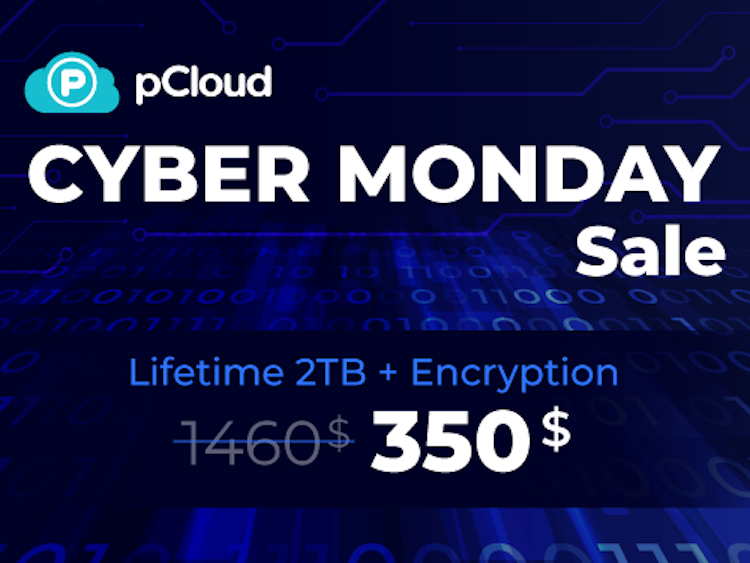 Cyber Monday slashes the price tags even harder, starting on November 29th. You can get 2TB Lifetime + Crypto Lifetime for $350 (instead of $1460), saving more than $1000.
These deals will be available for a limited amount of time, giving new meaning to cost- efficiency and lowest price. They happen once in a year and missing the opportunity now would mean that your next chance would be next year.