French digital service provider (DSP) Deezer has revealed its end-of-year 2022 financial results. Revenue was up 10.6% compared to 2021.
Deezer generated €451.2 million ($474M) in overall revenue last year. But 60% of that revenue was spent in France, its largest market. French revenues were €273.2 million in 2022, a 12.6% increase compared to 2021. The company's adjusted gross profit also improved in 2022 with €98.0 million ($103M) compared to €84.1 million in 2021. Deezer attributes this improvement to the positive impact of the shutdown of its freemium service in some countries.
Despite the improvements in gross profit, the company is still operating with heavy losses. Its operating loss in 2022 was €166.7 million ($175M), up from the operating loss of €120.6 million ($128M) in 2021. Deezer says this operating loss increase YoY can be attributed to its non-cash listing service charge resulting from the SPAC merger between Deezer and I2PO. Deezer's adjusted EBITDA for 2022 now stands at €55.7 million ($58M), narrowed down from €64.6 million ($68M) in 2021.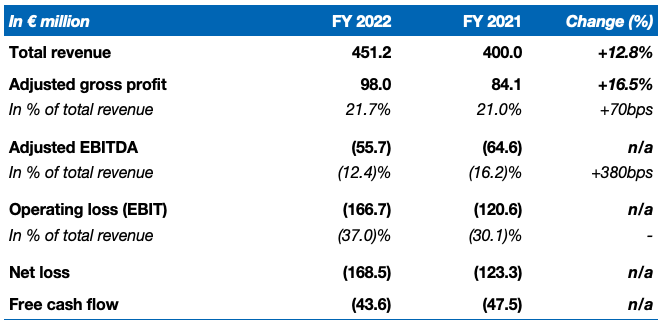 Deezer finished the 2022 year with a subscriber loss of 9.4 million across the globe, down 200K from 2021. Deezer says these losses come from both the B2C and B2B segments respectively. Some of Deezer's B2B partnerships include deals with Sonos in the United States, RTL in Germany, and DAZN in Italy.
"I'm very proud of what we achieved in 2022 and I would like to thank the team for an outstanding execution of our strategy over the past 12 months," adds Jeronimo Folgueira, CEO of Deezer. "Joining Deezer, I had four clear goals, secure funding, increase differentiation, achieve double-digit growth and reach profitability. Despite very challenging market conditions in 2022, we were able to secure enough funds to fully execute our plan. We increased revenues by 13% with growth in all segments and geographies while cutting losses in the core business by €18m ($19.2M) and setting a clear path to profitability."
"2022 was also a year of differentiation for Deezer, establishing ourselves as the go-to player for tailored music solutions through exciting partnerships, including RTL+Musik in Germany and Sonos in the United States," he continues. "Moreover, with a new product vision, we are on our way to transform Deezer from a traditional DSP to a provider of unique music experiences."