Data monitoring is changing the way A&Rs discover and monitor emerging talent. Music data analytics platform Viberate is helping facilitate emerging artist discovery with useful tools like its Artist Chart. Let's take a peek.
The following was created in collaboration with Viberate, a company DMN is proud to be partnered with.
Viberate's Artist Chart is part of the platform that currently ranks and analyzes 700,000+ artists. "Fueled by streaming and social media data and customizable with country, genre, and performance filters, [Artist Chart] is built to change the way A&R teams discover promising artists," says Vasja Veber, Viberate's Co-Founder. "The Artist Chart should help you pinpoint artists you're looking for, screen their performance and benchmark them in ten minutes. After that, you can track the artists' growth and releases in one place."
Seems pretty simple. So let's take a peek at how this process works for talent discovery of upcoming Indie Pop artists in the United States. 
How Talent Discovery on Viberate Works
We want to isolate artists who are are trending, so we start with the 'hot filter to find Indie Pop artists that are trending. Here's a quick peek at the chart utilizing this filter.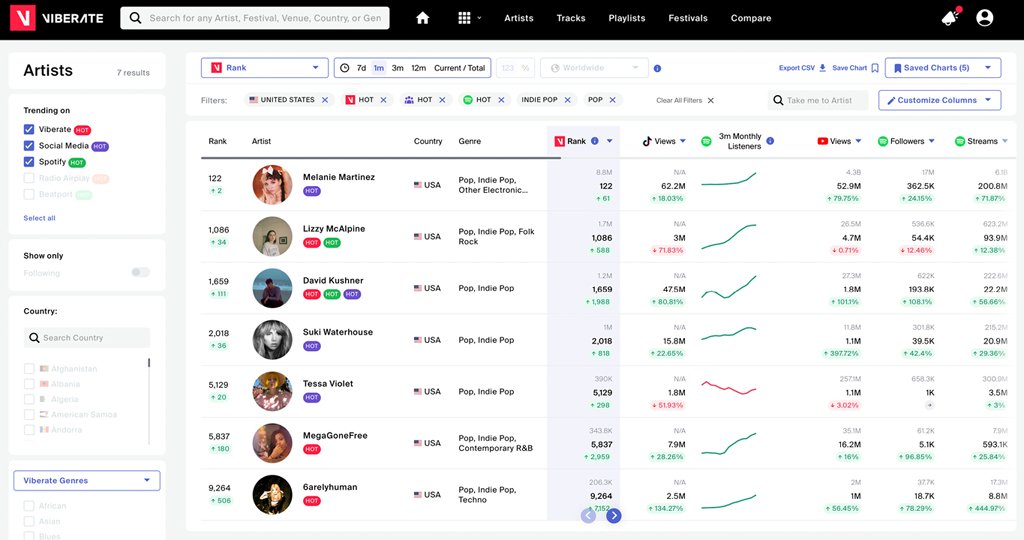 Since we want to focus on emerging Indie Pop artists, we need to add a few more filters to really get these results drilled down. Adding a filter for country (United States), subgenre (Indie Pop), lower overall rank (Under 20K), and fanbase size (at least 10K+ TikTok followers). Sorting the artists with these filters based on their YouTube views in the last month gives us a shortlist of eleven potential artists who meet our requirements. 
Here we get a handy peek at the three-month trajectory graph of streams and listeners on the same chart. You can also listen to the artists' signature tracks right on the chart. Not ready to drill down into the results? Save the results of the selected filters and return to it later—with potentially new artists on the list. 
Screening & Benchmarking Artists
The Artist Chart on Viberate also provides useful tools to look into each artist's streaming and social media analytics. You can focus on aggregated metrics like social media, music performance, and other performance metrics to compare artists side-by side.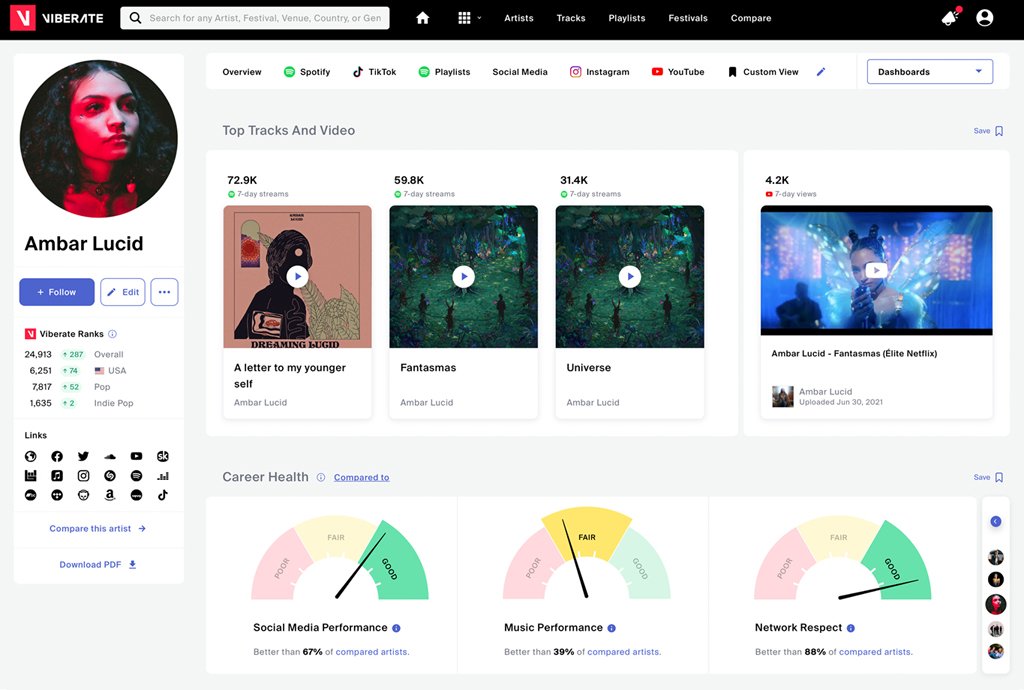 With this information, you can compare artists side-by-side for metrics like fanbase size, country distribution and demographics, yearly growth, engagement, etc.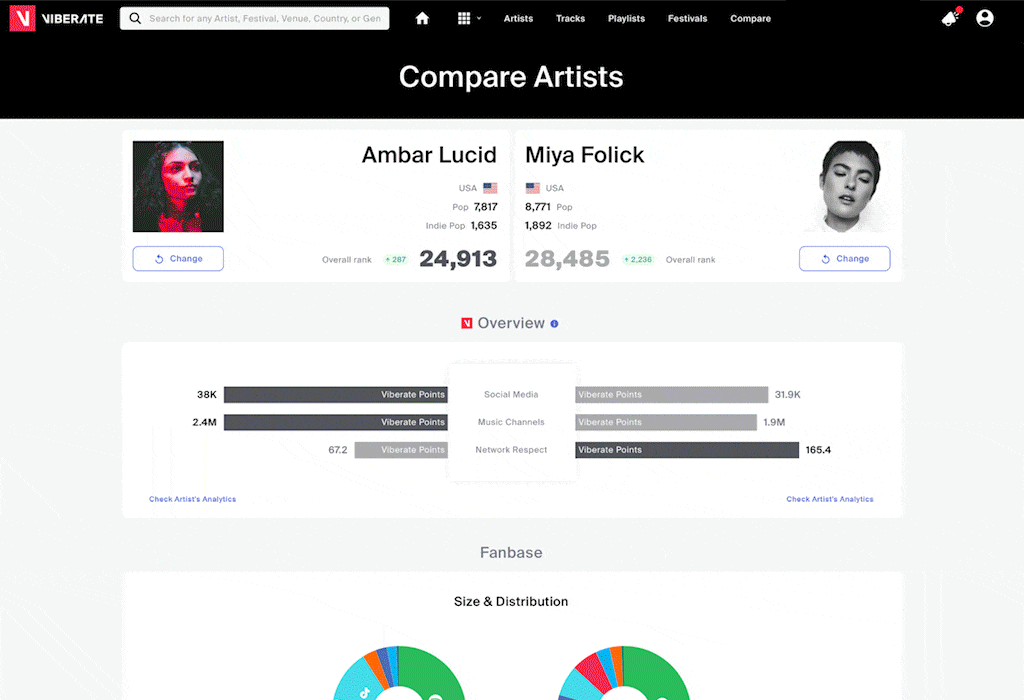 Monitoring Development
Following artists on Viberate means you get ranked and analyzed updates on the 'Followed Artists' chart. That gives A&R execs a place to have cross-channel stats in one place for referencing an artist's development. Aside from these charts, Viberate includes artist, track, and playlist analytics, plus reporting tools.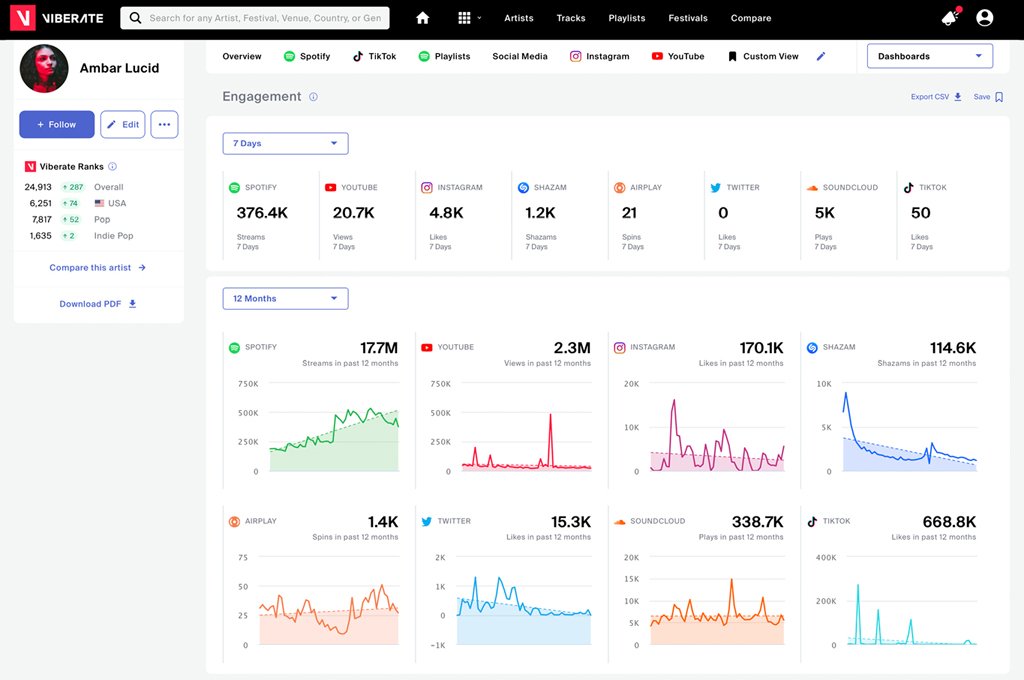 "If we want the entire industry to prosper, we need to provide tools at an affordable price," says Veber. To that end, Viberate has reduced the price of its Viberate Premium plan from $129 to $9.90 per month. Viberate says it also has more announcements in store this year as it follows through on its plans to revolutionize the way the music industry uses data. 
It's a great complementary tool to use alongside live performances to identify hidden gems more time-efficiently. It can help you discover emerging artists to focus on without having to attend every smoky bar and sweaty festival performance to surface underground talent. Discoveries happening online can be quantified using social media data and Viberate streamlines that process.