Universal Music Group's Q2 2023 report is in—the company generated revenues of $2.93B during the quarter across all divisions. Here's the latest.
UMG's overall recorded music revenues for Q2 2023 were $2.26 billion, up 10.9% year over year. The company saw its subscription and streaming revenues grow 11% year over year to $1.55 billion in Q2. Its subscription streaming revenues grew 13% year over year to $1.16 billion. UMG attributes this growth primarily to "growth in global subscribers as well as the impact of price increases at certain platforms."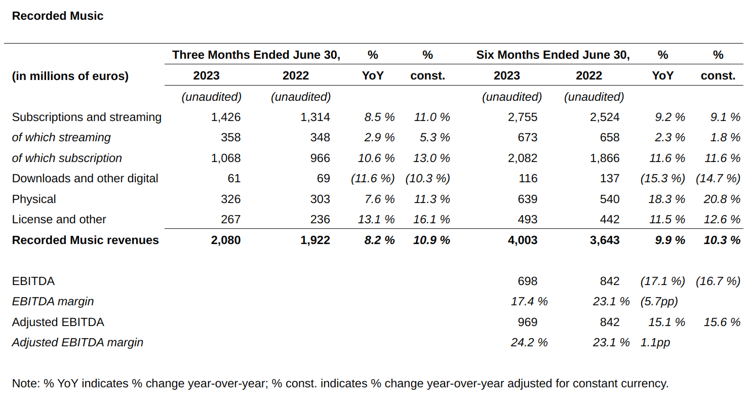 UMG's ad-supported recorded music streaming revenue rose 5.3% year over year to $389.75 million in Q2. It attributes this result to platform and country growth, calling the performance of the broader advertising industry mixed. Physical revenues ($354.91 million) saw 11.3% growth this quarter, primarily driven by strong CD sales in Japan from King & Prince—as well as the continued dominance of vinyl.
Top sellers behind these numbers include King & Prince, Morgan Wallen, SEVENTEEN, Taylor Swift, and Stray Kids. Top sellers for the previous Q2 2022 were BTS, King & Prince, Rammstein, Olivia Rodrigo, and INI. The price hike across all major DSPs helped drive this growth, but UMG Chairman Lucian Grainge says it doesn't go far enough to help real artists.
"Addressing average revenue per user is only one component," Grainge told investors. "First we must ensure that real artists with real fan bases are fairly compensated. We see more alignment between the labels and the music platforms than we've ever seen before. That allows us to make sure the artists are better compensated and everyone is rewarded for the engagement that those artists drive."
"We have more work to do, but I'm pleased with the progress we're making with our platform partners. I want to stress our goal is simple, to promote an environment where real music isn't drowned out in a sea of noise," Grainge continues. He has been critical of sound effects and nature sounds appearing on DSPs and streaming at the same value as artists like Taylor Swift and Morgan Wallen.