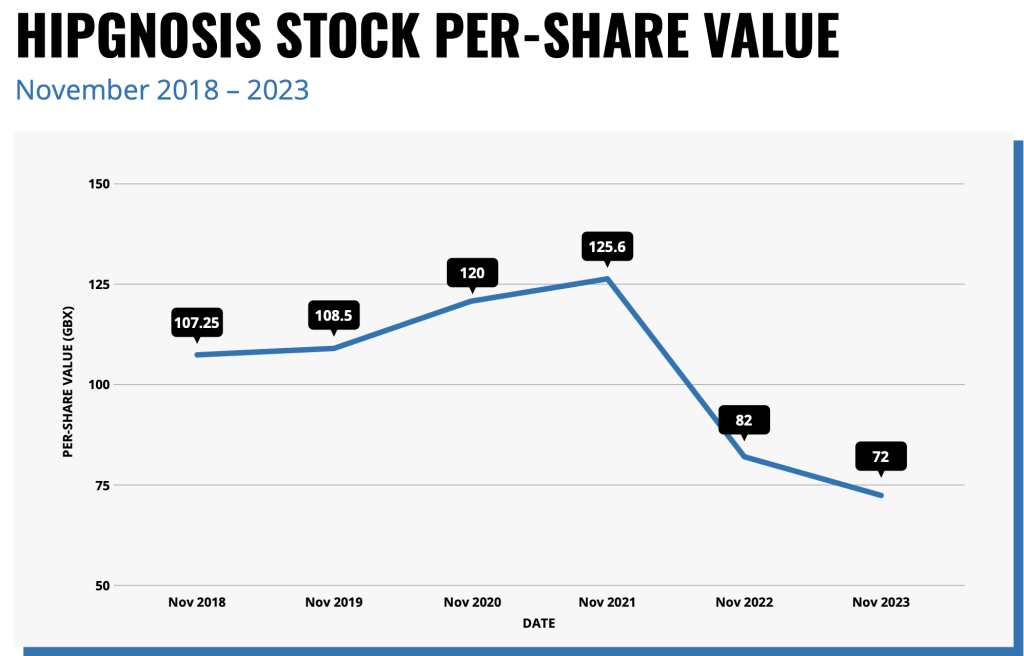 Late last month, following several far-from-ideal developments for Hipgnosis Songs Fund (HSF), investors voted overwhelmingly against the Merck Mercuriadis-founded operation's continuation. In this in-depth report, we look at what led to the fund's current predicament and what may come next.
In our latest DMN Pro weekly analytical report, we take a closer look at the slow-motion train wreck in music IP: Hipgnosis Songs Fund. This includes a detailed look at the events leading up to the current crisis moment, with a detailed to-date timeline and description of possible next outcomes. 
On October 26th, Hipgnosis Songs Fund formally announced the result of its much-anticipated continuation vote. Presumably lengthy discussions with leading investors and the launch of a sweeping strategic review weren't enough to change the minds of fed-up shareholders, who cast just 16.8% of votes in favor of keeping the fund alive in its present form.
In the wake of the stunning rebuke, HSF's board acknowledged that it would "put forward proposals for the reconstruction, reorganization or winding-up of the" business to shareholders within six months. These proposals, the board also emphasized, could involve liquidating the fund's assets.
Among the latter are billions of dollars in music IP, spanning 65,413 songs by HSF's count and including the catalogs of The Chainsmokers, Timbaland, Fraser T. Smith, Journey, Barry Manilow, Nikki Sixx, 50 Cent, Shakira, and The Red Hot Chili Peppers.
The significant name value of the listed professionals alone, not to mention the revenue potential of their bodies of work, raises multiple questions. Chief among them: How exactly did Hipgnosis Songs Fund go from executing a historic song-rights landgrab to facing a possible liquidation in only five years? And what's likely to happen next?