There is another side to the euphoria surrounding vinyl, particularly from music fans that simply view LPs as an inferior format.
And, one mostly driven by nostalgia instead of sound superiority and factors like 'warmth'. Like this recent reader, who clearly delineated six reasons why vinyl totally sucks… and one reason why it doesn't.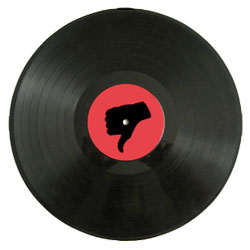 Vinyl sucks because:

  The static clicks and pops ruin the sound, and I haven't yet seen a setup that didn't have them.  This far outweighs whatever alleged resonance it may or may not have.  The static makes vinyl unlistenable.

It is extremely fragile and degrades a little with each play even if you take perfect care of it.   

   Is big and bulky and heavy, and so is the equipment needed to play it.

You have to flip the record for side 2. 

  No easy skipping of tracks.
It's harder to rip into your computer. 

The only win for vinyl that I can think of is that the cover art and liner notes are bigger and cooler.
So I guess I just don't comprehend the whole vinyl thing, and I'm old enough to have bought vinyl in the 70s when it was all there was.
Signed,
B…