And the biggest problem with the Grammys on Sunday?
That depends on your perspective, though one huge issue was the time delay! Not a big deal for New Yorkers, but dialed-in left-coasters had a hard time participating online.  Twitter is realtime, CBS was not, which meant that a major chunk of viewers already knew the winners and associated drama before the event technically began.     But wait: turns out this really didn't matter, or at least enough to prevent the Grammys from becoming the most social event in television history.  That's according to Bluefin Labs, which is actually specialized in TV-specific social media tracking. According to Bluefin's Eleanor Dowling, the Grammy Awards garnered a cool 13 million comments or social media messages over the length of the broadcast.  That utterly dwarfs last year's Grammy total of  546,000 (by more than 2,280 percent), but most importantly outdid Super Bowl XLVI, the most-watched and most social Super Bowl in history.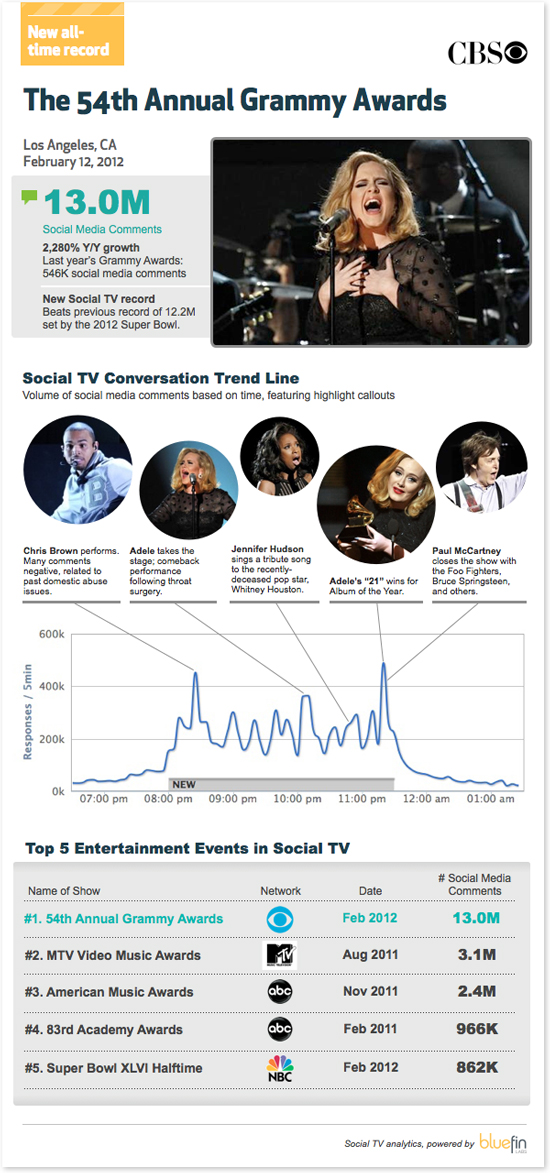 Written while listening to Kaskade and Jokers of the Scene.