There's an obvious reason for picking Kickstarter, Indiegogo, Pledge Music, or any other crowdfunding platform to raise funds.
They handle the all the details and financial aspects, but they also take a sizable cut for the privilege and make you play by their rules.  Which is why LA-based indie folk band A House for Lions decided to build their own crowdfunding platform, and determine their own parameters with their own fans.  That includes the ability to use money even if you don't reach a self-created goal.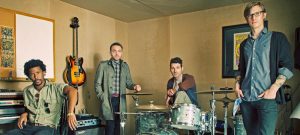 The campaign used an already-created software package, is currently in motion and going pretty well.  And it didn't take months – or even weeks – to set up.  Here's a decription from the group's manager, Allie Shaw.
"A House for Lions went through months of decisions before deciding to create our own crowdfunding campaign…
Even after jumping on the phone with people from Pledgemusic and Indiegogo, we still weren't convinced.  Just look at the numbers and this is the percentages each takes from the campaign:
Kickstarter: 5%
Pledgemusic: 15%
Indiegogo: keeps 4% (or, if you don't make goal you keep the money and give 9%)
artistshare: 15%
Sellaband: 15%
Rockethub: between 4% and 12%
A House for Lions also wanted to give 10 percent to charity (Music Cares), so add that to the percentage and it becomes a serious chunk.  Granted, there's the chance that you will get more eyes on your project on one of the bigger platforms, but that can be a crapshoot.
We also did some predictive analysis, and found out that reaching goals can be difficult – and perhaps more difficult on an established platform.  Less than 50 percent of projects meet their goals, and other than Kickstarter I had a hard time finding stats.  It didn't look good.
So everyone got together, and the decision was made: we had to roll our own.
All things go.
Once we made that decision, things started falling into place.  Mike the guitar player and graphic designer went on a whim Googled "crowdfunding wordpress plugin," (!!) and  he came across a small number of possibilities.   Ultimately, Ignitiondeck was definitely the most robust, easy to use, and well designed.
Getting buzz.
We were convinced we had to do this on our own, but getting attention was going to be difficult.  This was a real problem for us: A House for Lions only has 1,100 friends on Facebook and realized that they would be relying heavily on friends and family.
We had to brainstorm.  One idea was to make an engaging pitch video that could perhaps go viral and offer great rewards, then they would get the outside eyes on their own.
Our fans, our money.
We're feeling happy with our decision, largely because we're playing on our turf.   Because without the all or nothing model, we still get to make the album no matter what.  Yes, there are models like Indiegogo that allow you to keep the funds that you raise without hitting your goal, but if you choose to go that route they take 9% (!!) of what you raise.
Perks.
So it was on to creating the perks for the campaign.
Ahead of the campaign, A House For Lions released a free download cover of Tina Turner's "What's Love Got To Do With It" a couple weeks before the campaign to start some buzz and raise awareness of the band going into it.
And of course the guys are being creative as possible with the rewards.  Many of the lower rewards include t-shirts and posters designed by the guitarist Mike.  Oh, and what's a pledge drive without totebags? 😉
Results.
The response to the video and campaign has been pretty good!  A lot of people have been sharing/Facebook'ing/tweeting it around the web.  As of today (Friday), we've reached 63% of our goal with 77 backers and 7 days to go.  I feel this gives hope to baby bands all over that this can be done with a little research, creativity and motivation.
And here's the link where you can find and help donate to the campaign.  We kept it simple: ahouseforlions.com/debut/
Thanks for reading!
-allie.