Guess she could afford it, after all. Amanda Palmer has now decided to pay all guest musicians from the crowd, despite firmly opposing the move initially.  Here's her blog post on the matter, posted Wednesday evening.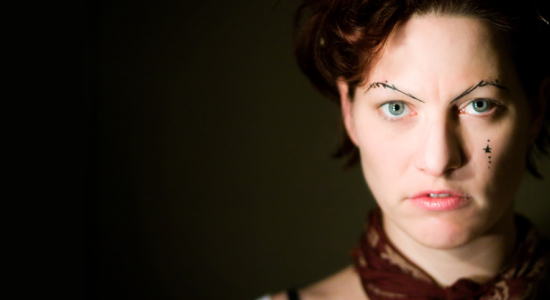 hola dear comrades!!
it's been a week since my cell phone rangbackstage in NYC on the opening night of the Theatre is Evil world tour. on the line was a NY times journalist I'd never spoken to. what followed has been a week-long fervid – and at times vitriolic — discourse about the nature and value of art, energy, time and money. i said in my last blog, we've clearly hit a huge cultural nerve with this whole "crowd-sourced musicians" kerfuffle. we didn't expect to hit that nerve, we did, and now we're dealing with it.
a few of them (the cowards, the trolls) threw some pretty nasty stones. but most of you brought well-articulated views, along with your personal stories and experiences. 
steve albini called me an idiot, then apologized for calling me an idiot, then called me an idiot anyway. 
a lot of my musician friends (including zoë keating, and nataly dawn from pomplamoose, who's been having her own double-edged success with kickstarter), took to their blogs to explain the eco-system of playing for reasons other than cash money. i thank every one of you who spent the the time to explain it to people. 

lots of the musicians who'd initially volunteered (even some who didn't get chosen to join us) posted really intelligent blogs defending your decisions.
as a result, we're inundated with excited offers from musicians for the rest of tour, and we're psyched. the shows so have been sick, glorious, communions of awe. the musicians have been amazing, and generous, and brave.
this is how we be the media.
i'm sad to realize that our creative intentions of crowd-sourcing – something that i've done for years, and which has always been an in-house collaboration between the musicians and the fans, never a matter of public debate or attack – are getting lost in the noise of this controversy.
"an editor tweeted me last night to PAY MY BAND. good lord."
to be clear, i have ALWAYS paid my band, who are on SALARY for the entire year (and will be next year too), even during the weeks/months we're not touring.
this sort of shit sucks to read. but truly? i'm blessed: i'm a financially successful musician working in a culture where support for musicians is in a state of terrifying flux. nobody knows this better than me and my friends, all of whom are trying to navigate their own creative ways in the murky waters of a new-digital-music-future during a recession. people see me as powerful. it is – by its nature – going to bring more attacks from the world when it disagrees with my artistic and business approaches. i doubt it'll stop anytime soon.

we're ready.
and as usual, i wouldn't want it any other way. this is the cost of being transparent.
the fact that we all have access to each other and CAN discuss this stuff in realtime is what has MADE my success possible, even if it means i'm tied to the stake every once in a while. i'll take it.
"for better or for worse, this whole kerfuffle has meant i've spent the past week thinking hard about this, listening to what everyone was saying and discussing. i hear you. i see your points. me and my band have discussed it at length. and we have decided we should pay all of our guest musicians. we have the power to do it, and we're going to do it. (in fact, we started doing it three shows ago.)"
my management team tweaked and reconfigured financials, pulling money from this and that other budget (mostly video) and moving it to the tour budget. all of the money we took out of those budgets is going to the crowd-sourced musicians fund. we are going to pay the volunteer musicians every night. even though they volunteered their time for beer, hugs, merch, free tickets, and love: we'll now also hand them cash.
i hope this does two things: i hope it makes the volunteers surprised and happy (they'll be getting some dough they had no idea was coming) and i also hope it makes our family circle feel good about speaking out. when we handed the musicians their surprise cash backstage in new orleans the other last night, they laughed like mad and said "after ALL THAT, you're going PAY US??!!"