If Spotify makes scraps for artists, then maybe this is what ultimately happens. On Tuesday, deadmau5 released his latest album, with availability limited to download stores and physical retailers only.  The release, >album title goes here<, is nowhere to be found on Spotify, and available only as limited preview snippets on Rdio.
Spotify later confirmed that deadmau5 is withholding the album for 'a few weeks' from Spotify and other streaming services, specifically in the US (it is available in Europe and other territories including Australia).  That confirms an earlier source that also pointed to a delay of a few weeks across various streaming and subscription services.
All of which sounds like a classic windowing move, though a far smaller delay than those created by Coldplay and Adele.  And, potentially part of a broader pattern of windowing by high-level artists, based on superior payouts from physical and download configurations.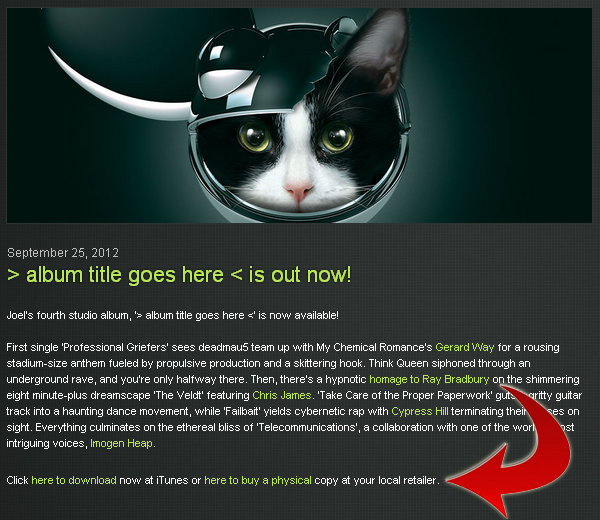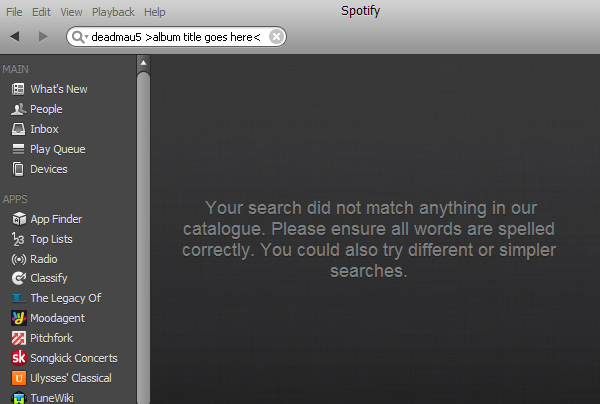 Others, most notably The Black Keys, are withholding their latest content indefinitely from Spotify.  But that is based on a deeper disagreement with Spotify's payout structure and general philosophy, not simply a desire to maximize earnings immediately after an album release.
Which means for now, iTunes is getting the red carpet treatment, Beatport is a preferred retailer, and Amazon MP3 also has it. The reason: those guys simply pay better.
The plot thickens when the piracy side is factored into the equation.  Leaked tracks were apparently available prior to release, mostly in a lower quality (according to one superfan, but see more in comments below).  Post-release, availability will likely switch to the immediate availability of pristine copies on protocols like BitTorrent.  Against that reality, Spotify claims to be the best defense against piracy, though others, including Grizzly Bear, say there's little difference between the two.