Of all the Spotify holdouts, this perhaps speaks the loudest.
Because exposure for a cause is great, but actual donations are better.  And after staging a resoundingly successful '12-12-12′ charitable concert for the victims of Superstorm Sandy, the recorded version of that event is not available on streaming services like Spotify.
Instead, the Robin Hood Relief Fund and coordinating label Columbia Records have opted to forego streaming services to protect donation levels, at least during the initial release window.  At this point, we're uncertain if the release will ever be made available across streaming services, though we're awaiting word back from both Spotify and the Robin Hood Fund.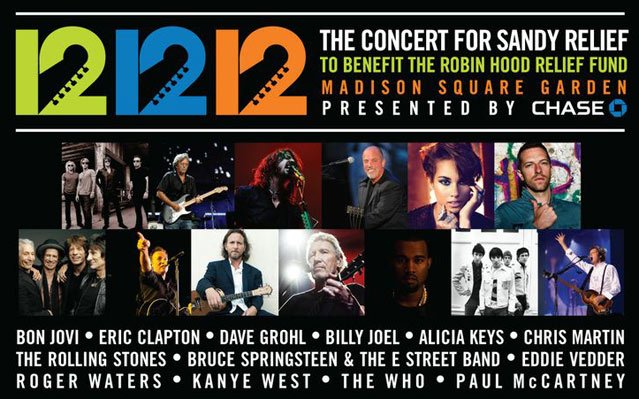 Already, the charitable effort has delivered $50 million in relief funds, and the recording is designed to further maximize those contributions.  "Columbia Records announced today that music is now available from the 12-12-12 benefit concert… to provide the most assistance possible to the victims of Hurricane Sandy through the Robin Hood Relief Fund," the label shared.
Here's the tracklisting for this release.  More details at www.121212concert.org.
1. Bruce Springsteen & The E Street Band, "Land of Hope and Dreams"
2. Bruce Springsteen & The E Street Band, "Wrecking Ball"
3. Roger Waters, "Another Brick In The Atlantic Wall Part I, II & III"
4. Roger Waters, "Us and Them"
5. Roger Waters feat. Eddie Vedder, "Comfortably Numb"
6. Adam Sandler and Paul Shaffer, "Hallelujah (Sandy Relief Version)"
7. Bon Jovi, "It's My Life"
8. Bon Jovi, "Wanted Dead Or Alive"
9. Eric Clapton, "Got To Be Better In A Little While"
10. Eric Clapton, "Crossroads"
11. The Rolling Stones, "You Got Me Rocking"
12. The Rolling Stones, "Jumpin Jack Flash"
13. Alicia Keys, "No One"
14. The Who, "Who Are You"
15. The Who, "Baba O'Reilly"
16. The Who, "Love Reign O'er Me"
17. Billy Joel, "Miami 2017 (Seen The Lights Go Out On Broadway)"
18. Billy Joel, "Moving Out (Anthony's Song)"
19. Billy Joel, "You May Be Right"
20. Chris Martin, "Viva La Vida
21. Chris Martin feat. Michael Stipe, "Losing My Religion"
22. Chris Martin, "Us Against The World"
23. Paul McCartney, "Helter Skelter"
24. Alicia Keys, "Empire State Of Mind"