He who lives by the DMCA, dies by the DMCA. And the latter may be the fate of Vimeo, the cleaner cousin of YouTube that never played the copyright game as slickly.
Which is partly why the major labels are intensifying their attack on Vimeo on that grounds of loose-and-fast DMCA interpretations, and asking a federal judge to make a final decision against Vimeo, right now.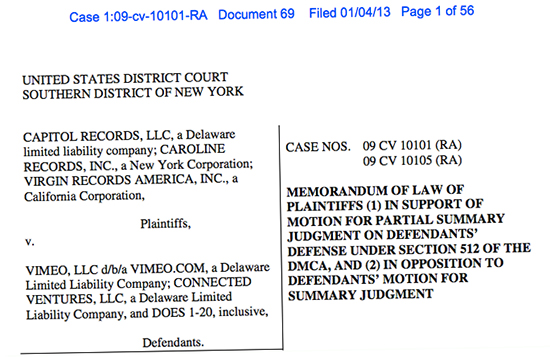 The label group, led by Capitol Records (ie, UMG), has just filed paperwork demanding a summary judgment against Vimeo on the grounds that this is a company that knew, encouraged, and facilitated widespread infringement of musical copyright on a recurring basis.
Capitol v. Vimeo actually dates back to 2009, but was delayed pending guidance from a far larger legal battle between Viacom and YouTube (Vimeo, by the way, is owned by Barry Diller's IAC/InterActiveCorp). Now, several issues related to what actually constitutes DMCA safe harbor have been established by the 2nd Appelate Court.  In summary, playing the DMCA game now goes far deeper than simply waiting for a Takedown Notice from the copyright owner.
Instead, networks and sites are expected to take action if they are aware of infringing content, and sneaky attempts to 'remain willfully blind' can amount to serious infractions.  Capitol asserts that Vimeo failed a list of newly-precedented safe harbor litmus tests, including:
(1) the site does not have actual (i.e., subjective) knowledge of specific infringing works;
(2) it does not have 'red flag' (i.e., objective) knowledge of specific infringing works;
(3) it is not 'willfully blind' to infringement;
(4) it does not have the right and ability to control infringing activity from which it receives a financial benefit (regardless of knowledge);
(5) it does not induce infringement; and
(6) it expeditiously removes infringing works after being provided a 'takedown' notice.
"Vimeo has actual and 'red flag' knowledge of infringing works on its system but refuses to remove them," Capitol asserts in its filing.  "It has constructed a system to remain willfully blind to infringement… it induces users to infringe music copyrights; and it fails to communicate or properly implement a repeat infringer policy or expeditiously remove infringing works."
"Thus, Vimeo is far from the 'innocent' service provider eligible for DMCA 'immunity.'"
Dig a bit deeper, and the action calls for a far different DMCA than the 'whack-a-mole' approach of today.  "Confining the DMCA to a 'notice and takedown' statute places the burden entirely on the copyright owner and ignores the remaining safe harbor requirements.  That is not what the statute says, nor is it the construct reiterated in Viacom."
"In fact, Congress made clear that copyright owners need never provide takedown notices, an often futile process."
The full motion is here.