If you're wondering what disruption really looks like, this would be it.  This is the ugly side, and it sucks if it's happening to you.
Which brings us to the collapsing HMV, the now-bankrupt retailer that  is dealing with furious ex-employees, angry customers, death threats, and spurts of violence.
For starters, the entire hmv.com has been shut down, completely.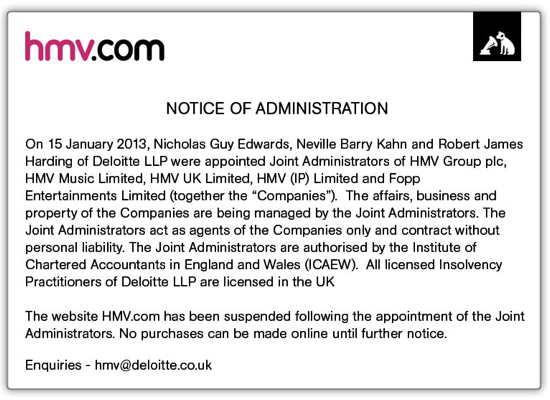 But that's the least of the concerns.  On the Irish front, reports point to irate employees, many of whom are staging sit-ins to protest the closures and ensure that wages are paid.  Here's what one unidentified employee told the BBC.
"We are owed wages, and holiday and lieu time and the like.  We want written confirmation that we will get what we are owed.  More importantly, we want to get the shop reopened, we are a profitable store with fantastic staff."
The chainwide bankruptcy is a solution with issues.  According to once source to Digital Music News, not every store is necessarily underperforming.  Ahead of Christmas, HMV in Canada emailed us with a fairly robust holiday retail report, and some stores cater well to CD-buying demographics.  In territories like Hong Kong, physical still accounts for nearly 80 percent of total recording sales, unlike most other territories.
Meanwhile, customers are furious over now-invalid gift cards, many of which were sold in December ahead of a near-certain collapse.  So much so that police have been called to settle numerous 'situations' at several locations, according to various reports from the UK.
All of which brings up a ethical question: most of these cards were sold in December, just weeks before the collapse.   HMV knew the ship had hit an iceberg, the customers didn't.  So isn't that the same thing as stealing from them?