Maybe the biggest mistake was declaring war on user piracy in the first place. Because the 'enemy,' ie, the file-swapping music fan, is typically a casual offender.  And, most Americans (swapping or not) seem very receptive to more moderate enforcement and blocking responses.
That's the takeaway from a fairly detailed study on 'Copy Culture' just published by Columbia University's American Assembly, one that surveyed thousands of Americans on a broad number of media acquisition behaviors and attitudes (Germans were also interviewed on a separate track).  Throughout, the resounding conclusion was that most music and media fans are not hoarding large collections, appear comfortable with some level of monitoring, and are receptive to modest enforcement measures.
For starters, most are swapping amongst themselves or close family members and friends.  Indeed, there's a substantial cliff after these close-knit swaps.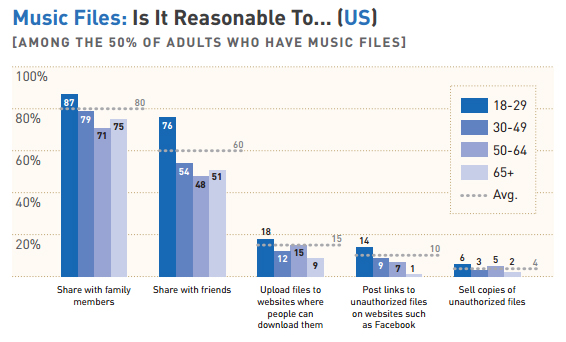 Here's another surprise: a majority (52%) of Americans feel that illegal downloading should be met with some sort of penalty.  Predictably, that number drops substantially among the younger, 18-27 set (to 37%), according to the report.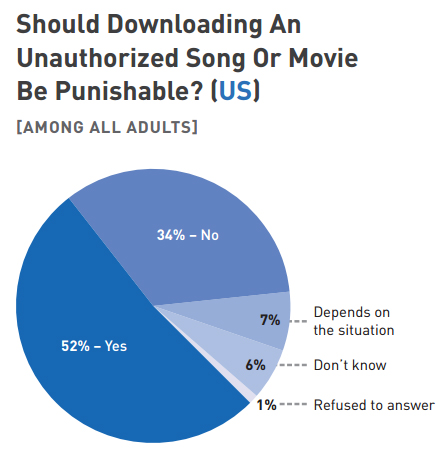 Of course, virtually no one feels comfortable with the take-no-prisoner, $150,000-per-infringement approach championed by the RIAA.  But large numbers seem comfortable with modest fines…
Most favored warnings and smaller fines, with some supporting throttled speeds, but what about blocking content entirely?  Seems like a dirty word, but the researchers only provoked strong resistance when terms like 'government' or 'censorship' entered the picture.  Ya know, those SOPA trigger words that stirred the internet masses to action…
The full study is here.