This probably makes sense given the cultural similarities to the US, not to mention a seriously-dedicated British fanbase.  According to stats recently published by the Entertainment Retail Association (ERA), sales of vinyl LPs are absolutely booming in the UK, on levels that are similar to the US.
Specifically, the value of the vinyl market rocketed 70 percent in 2012 to £5.7 million ($9.03 million), up from £3.4 million ($5.39 million) in 2011.  That's now part of a five-year streak, one that is happening alongside a very serious and marked decline in CDs.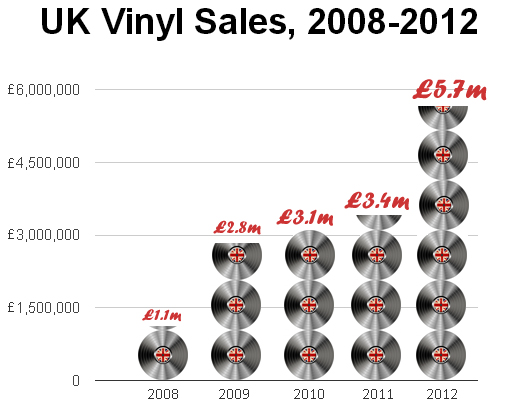 And that's part of the problem: CDs have historically sold in tonnage, and that tonnage is disappearing.  In its place are things like iTunes downloads and vinyl, that latter of which is proving to be a niche story.  According to the stats, sales of vinyl LPs in absolute terms reached 389,000, up 15.5 percent from 337,000 in 2011.
Separately, the story on 45s and vinyl singles is less heartwarming.  According to the same ERA stats, singles have now dropped below the million-pound mark. That's more than a 50 percent drop over the past five years, and suggests a different trajectory than the US.