We burned Milli Vanilli at the stake, stripped them of their medals, and drove them into pop infamy.  So how do we handle the now-confirmed case of Beyonce lip-synching America's National Anthem in front of millions, at an historic Inauguration ceremony to boot?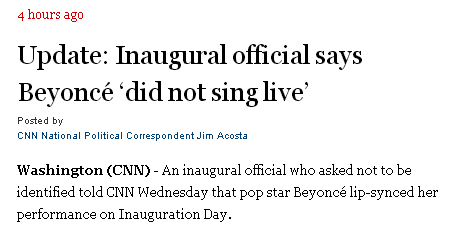 Unfortunately, this is now 'official official': Beyonce was not actually singing, according to word from an Inauguration official to CNN.  Earlier, the US Marine Band did their best to double-talk and protect the star singer, but unfortunately, they were being placed (or, agreeing to place themselves) in a very difficult position.  "She did not sing live," the official flatly shared, while pointing to anxiety over the possibility of a non-rehearsed, rushed performance in cold temperatures.
Something about the schedules, arriving late, being busy with Super Bowl halftime preparations, etc. "Because she didn't have time to rehearse with the Marine Band, she decided to use her recording with the Marine Band," the official added, while noting that Beyonce herself – and no one else – insisted on the arrangement.
"It was all Beyonce."
It gets worse: because the Marine Band was actually playing, of course they know this tune by heart.  But they acquiesced to Beyonce and subsequently compromised their reputation by assisting a cover-up.  "Regarding Ms. Knowles-Carter's vocal performance," band spokesman Capt. Gregory Wolf stated earlier this week. "No one in the Marine Band is in a position to assess whether it was live or pre-recorded."
The Beyonce camp has yet to respond.  The Super Bowl halftime performance is scheduled for February 3rd.