The question is why Amanda Palmer apologized and backed down in the first place, why she didn't stick to her values.
But after scoring $1.2 million on Kickstarter and subsequently soliciting musicians to play for free on her tour, Palmer reversed course after an intense backlash.  And decided to pay the musicians that volunteered to participate, practice, and perform on her tour.
Which sounds like the right decision, except Palmer doesn't quite seem happy with it.  And, she's now calling all the critics outsiders who just didn't get it.  "I got a lot of criticism online after my Kickstarter went big, for continuing my crazy crowdsourcing practices," Palmer told an audience during a TED talk this week.  "Specifically for asking musicians who are fans if they wanted to join us on stage for a few songs in exchange for love, and tickets, and beer…"
"People were saying, you're not allowed anymore to ask for that kind of help."
Palmer compared the situation to her early days as a street performer, when she posed as a living 'eight foot bride' statue and handed flowers to donors.  According to Palmer, people would sometimes drive by and scream, 'get a job!' while completely missing the connection with passersby.
Those drive-by hecklers, in Palmer's analysis, are the same people now criticizing her solicitation of free, volunteer musicians.  "But those people weren't with us on the sidewalk and they couldn't see the exchange that was happening between me and my crowd.
"An exchange that was very fair to us but very alien to them."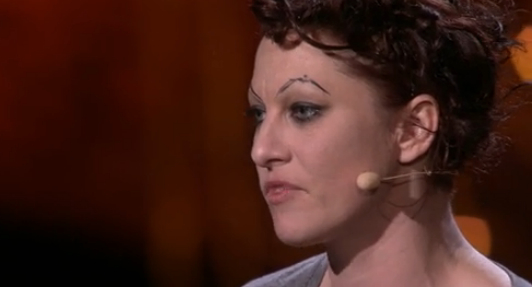 It was all part of a talk that focused on a philosophy of asking, and having the ability and strength to accept gifts and donations.  "Through the very act of asking, you connect," Palmer said.  "A lot of artists have a problem with that."
The full video is here.