…rather than the other way around.
PJ Bloom, who is the music supervisor on Glee and CSI:Miami, has told an audience of independent musicians and music companies in the UK he was "shocked" that TV studios had to pay to use music, as the potential exposure opportunity for artists is "immense".
"I would argue that you as music rights owners could buy the right synch," he concluded.
Aah, the old "exposure" chestnut – it's an argument musicians hear on a regular basis and, these days, it would be fair to ask: "For what?" Perhaps actors, too, should pay to be in the TV programmes, as it's exposure for them?
In the US, terrestrial radio corporations have successfully argued the "exposure" point in order to not pay artists for using their music (incidentally, the only other countries where this happens is Iran, North Korea and Rwanda). This despite the US industry pulling in $17.4bn in advertising in 2011 alone  – more than the entire worldwide record industry was worth that year .
US radio says it shouldn't have to pay as it's "promotional", and helps sell records. An argument to which Rob Dickins, the former chairman of Warner Music UK, once replied:
"It's promotional when you play my record when I want you to!"
But as revenue from recorded music has almost halved in the past decade – as has the effective price of a CD  – artists are being told to not expect to make money off records.  Instead, they're advised by a multitude of tech websites that they should give their records away for free in order to promote their live shows.  Though, of course, the reason record labels traditionally have provided tour support is because, for emerging artists, touring costs more than they make from it.  It's even common to have to pay the headlining artist for the privilege of opening up for them.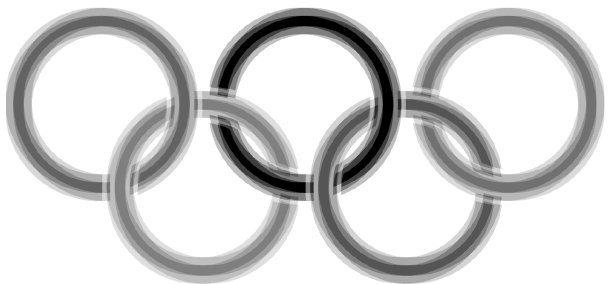 Live venues also use the "exposure/promotion" argument in order not to pay musicians properly. Professional musicians approached by the London 2012 Organising Committee (Locog) for the Olympics, for example, were told the policy was not to pay artists and that they should do it "for the exposure."
Considering rehearsals, travel, parking (try taking a drum set on the tube) and the overpriced food on location, the bands were effectively expected to pay to play at the numerous events Locog organised around the Games.  Not even the acts performing at the opening and closing ceremonies got paid. A friend who played in George Michael's band at the closing ceremony told me the artist paid the band out of his own pocket.
So, to sum up: musicians shouldn't get paid for radio as it is promoting record sales. They, in turn, should not expect to be able to charge for their records, as everyone can get it for free anyway on the hundreds of pirate sites.  But not to worry, because their records promote their live performances – never mind if they have to pay to play, as performing is promotion for their records (that they don't get paid for).
Getting a "sync", as in getting their music used in on TV, commercials, film and video games, has remained a welcome revenue stream for artists and songwriters – especially as artist deals tend to stipulate that half the payment for the use would go to the artist, compared to the average 16 percent they would get from record sales.
However, as Bloom pointed out, the days of scoring big lump sum payments from sync placements are over.  And now, in a complete reversal of fortune, he thinks artists should pay for the privilege of having these corporations use their music – as it's promotion.
Promotion for what?