That's according to research just shared by top industry analyst Mark Mulligan, who found that streaming revenues are just 12 percent of the broader, digital, global pie.  In turn, digital formats now account for 34 percent of global recording revenues, according to the IFPI figures for 2012 (see p.6).
All of which means streaming accounts for about 4 percent of overall, global recording revenues.  "It's not so much the fault of the Spotify model, but streaming in many ways just isn't ready for mainstream," Mulligan told an audience at SXSW.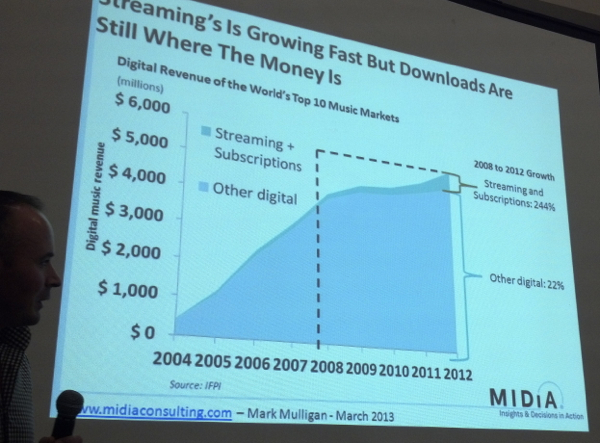 And guess where the rest is coming from?  'Other digital' is mostly paid downloads, with iTunes still an extremely formidable force in this space.  "For all of the hype around streaming, we're looking at, for 2012, 12 percent of digital revenues coming from digital streaming," Mulligan confirmed.
"[Spotify CEO] Daniel Ek [just revealed] 6 million subscribers, but 6 million subscribers compared to the 400 million credit card-linked accounts in iTunes, it's just a drop in the ocean."
Hype, meet sober statistical analysis.  "And however much you try to make that shape grow, you're not going to make it the majority digital [revenue contributor] in the next five years unless downloads collapse.  Now, downloads could collapse I suppose if Apple did something really serious with streaming, but we know that downloads are increasing as well with all of Apple's expansion.  Downloads are getting new customers as well."
"We're seeing titles like 'Now' doing well as a result of new digital customers coming on board via the iPhone, and Apple is getting digital music customers via the iPad.  And this is important, because we know that when the iPod started going into decline, that's when downloads fell off a cliff and moved from double-digit growth to single-digits."
"When Apple sneezes, the music industry catches a cold."
Written while listening to LONG.LIVE.A$AP (Deluxe Version).