So how long will this horse still trot?  Until it dies of brutal exhaustion, that's how long: according to details slipping this morning, American Idol has now fired executive producer Nigel Lythgoe while the series trudges along.
That is, fired in a nice way.  Lythgoe confirmed the boot, but also noted that he's still in charge of So You Think You Can Dance.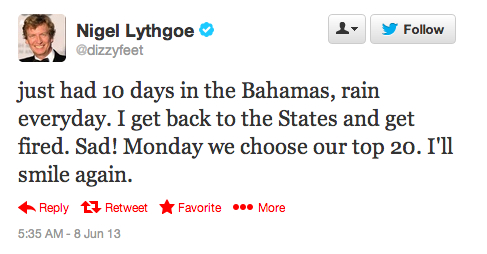 Lythgoe seemed philosophical about the shift, further noting that 'new leadership' may be needed to steer the show away from dangerous ratings lows.
Also out is executive co-producer Ken Warwick, and Fox has confirmed both exits.  "The passion and dedication that Nigel Lythgoe and Ken Warwick brought to American Idol guided the show to become a true cultural phenomenon," the statement read.  "While we are saddened they will no longer be executive producers on the show, we are grateful for their tremendous contributions and look forward to continuing to work with them on additional projects."
The departure follows news that Randy Jackson, Mariah Carey, and Nicki Minaj will not be returning next seasons.