Mumford & Sons have long been vocal about their disdain for secondary ticketing companies — or, as some of us like to call them,legalised scalping platforms.  Secondary resellers often make a 25% commission (10% from the sellers and 15% from the buyers) off of every sale.
The band is now putting their money where their mouth is: for their upcoming Gentlemen of the Road festival in Lewes this coming weekend, Mumford has teamed up with direct-to-fan ticketing platform Music Glue for primary tickets and, for ticketing resale,Twickets – a fan-to-fan ticket aggregator in its true sense that allows event goers to swap spare tickets for no more than face value.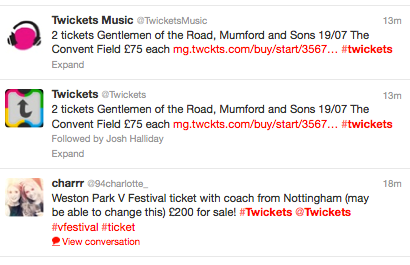 Here's how Twickets works:  If you want to offer a spare ticket at face value or less, simply tweet to @Twickets.  If you want to see every spare ticket to any event, just follow @Twickets.
There are also specific Twicket Twitter accounts for sports, music gigs and travel tickets as well as for shows, plays and musicals.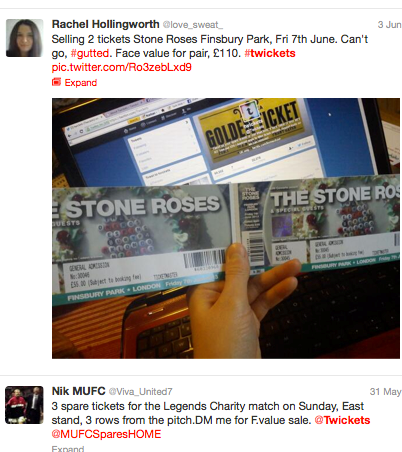 As with many great ideas, Twickets came out of its founder's own unfulfilled need. Like many music fans, Richard Davies had grown frustrated seeing concert tickets appear on secondary ticketing sites such as Viagogo and Seatwave for vastly inflated prices.  Of course, as soon as they went on sale, fans were left empty-handed.
Davies had the idea after coming across a tweet from a music fan offering to give away last-minute tickets for free to a show he couldn't make.  Davies did some research, and found this act of kindness was not a one-off – there were thousands of people out there who did not want to participate in legalised scalping, just because they weren't able to use the gig ticket they had purchased.  And so Twickets was born.
Unlike other ticketing platforms, Twickets users aren't hit with any pesky service charges, as the buyer and seller usually simply arrange to meet up before the gig.
And to ensure the scheme won't be hijacked by scalpers, Twickets deletes tickets posted above face value.  They also block repeat abusers, if necessary. Users themselves also help police the Twickets Twitter feed.
Though Twickets currently only exists in the UK, there is no reason why it couldn't expand to any other country. Davies is not making money off the venture, as it's not for profit.  There is even a free Twickets app for iPhones and Androids, and the service now has over 100,000 users across all platforms.
The official Twickets exchange partnership scheme for Mumford & Sons' festival – which also features acts such as Vampire Weekend, the Vaccines and White Denim – has come to an end, in order to "allow for all tickets to be processed before the festival weekend".  Of course, there is nothing preventing people who find they have last-minute spare tickets to the festival from using @Twickets.
"We do what we can to keep tickets out of the hands of scalpers and away from secondary ticket sites," says Mumford & Sons' manager Adam Tudhope from Everybody's Management.
"What we don't want to do is stop legitimate fans legitimately selling their ticket at face value to another fan if they can't make the gig for whatever reason."
"Using Twickets for our Lewes Stopover is our first foray into finding a suitable way for fans with tickets to find fans who need tickets.  Let us know what you think."
The scheme appears to be working.  Whereas a quick Google search for concert tickets normally throws up plenty of options of buying them for inflated prices on secondary ticketing sites, none of the usual suspects (Viagogo, Seatwave, etc.) showed up on a search for this weekend's Gentlemen of the Road festival (though tickets for their US shows on Stubhub still rank highly).
Though Twickets may not be able to eradicate legalised (or illegal) scalping, it makes the claim of  secondary ticketing sites – that they "provide a service for real fans who have bought tickets, but find themselves unable to go" – ring even more hollow.
Another step towards minimising scalping would be for certain primary ticketing platforms (many of them have their own secondary ticketing platforms), promoters and artists to stop profiteering from it via kickbacks.  But Mumford & Sons' latest experimental 'foray' shows that artists can fight scalping if they put their mind to it – and turn down the extra profits that often come with it.