The reason why artists are constantly getting exploited by Spotify, Pandora, labels, promoters, and everyone else is simple: they aren't organized in any fashion.  Which means they are always victims of constant exploitation based on their constant fragmentation, according to the CEO of Ticketmaster and a top executive at Live Nation, Nathan Hubbard.
Not only that, Hubbard argues that entire music business models are built around exploiting hopelessly disorganized artists.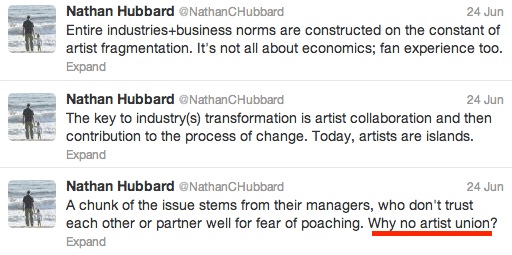 Hubbard, a former musician himself, is just starting to rattle the very noisy cage on this.  In a 'mailbag' letter to Bob Lefsetz this week, the Ticketmaster CEO pounded the table much harder and admitted he was becoming "obsessed with solving this…"
"My observation is that most of the bad things about the consumer experience in both recorded and live music have been allowed to persist because the artist community is fragmented, and therefore powerless as a whole.  They lose out to established status-quo forces via thousands of one-on-one negotiations, rather than creating leverage by assembling their interests."
"There is no artist union. THERE SHOULD BE."
(CAPS written by Hubbard; the entire letter to Lefsetz has been published by MusicWeek, here.)
The call to action comes just moments after major protests from artists like Pink Floyd (against Pandora) and the members of Radiohead (against Spotify), both of whom feel like they are getting a seriously raw deal.  In both cases, the negotiations are largely happening above them, and in the case of Pink Floyd, they are practically powerless to remove their content.
In the letter to Lefsetz, Hubbard also pointed to massive potential changes in the concert business, if only musicians would properly organize.  That includes the ability to demand all-in, cheaper ticket pricing, break the venue's control over tickets, and "drive full inventory disclosure so fans get the best shot at tickets".
Hubbard lacks the name recognition of executives like Tim Westergren and Daniel Ek, but he's one of the most influential figures in the music industry and a heavyweight in live music.  Indeed, Hubbard knows a lot about the deals artists get handed on a daily basis, especially around live concert performance.
Expect a lot more ahead on this, including coverage and interviews involving far larger media publications.  We'll be covering it.