Not all of those 1.7 million subscribers are necessarily using Muve Music.  But then again, every single one of them is paying for Muve Music as part of a bundle.  Which makes Muve Music the largest on-demand subscription service in the US, potentially by a substantial margin.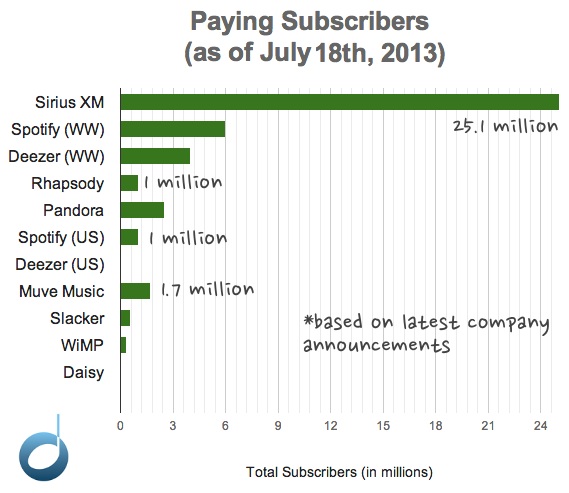 Muve owner Cricket Communications is dumping some gasoline on this flame.  The just-launched Muve Music 4.0 features all sorts of nice enhancements, including better navigation, quicker playback, and curatorial touches like Muve Mixes.
The growth spurt shifts the focus towards a totally different, mobile-bundled model.  Daisy (by Beats by Dre) seems very interested in pursuing this path, and both Spotify and Deezer have similar arrangements in various territories.  But Spotify and Deezer also focus heavily on creating direct customer relationships, which is a damn expensive path.
The reason is that for all of their hefty gains, market leaders like Spotify (and Deezer outside the US) spend vast sums of money attracting and retaining those subscribers.  That includes subsidizing enormous amounts of free listening, and dealing withextremely high churn rates.
"I think when you introduce price into the equation it gets very hard for most people.  The second that you require plastic, you shrink the global opportunity for the consumption of music to a very small percentage of the population.  And that's a fundamental barrier."
Muve founder Jeff Toig, SF Musictech Summit, February, 2012.