It's been announced that Finland will be the first country in the world to vote on a "crowd-sourced" copyright law, after a recent modification in the country's constitution that now allows citizens to make legislative proposals. All they need is 50,000 supporters within six months.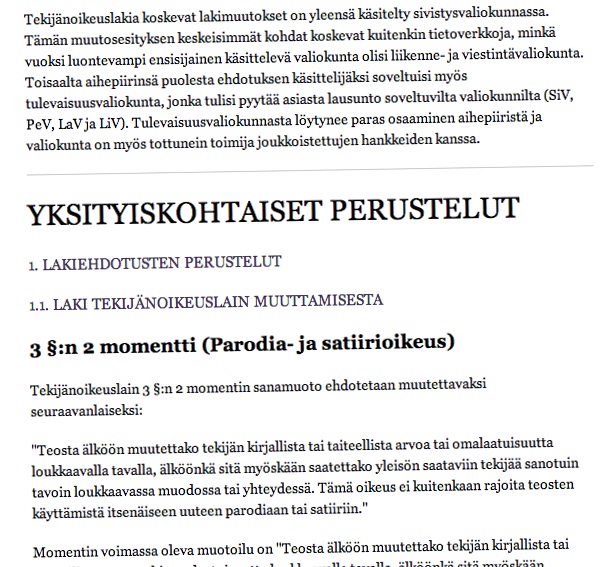 The Finnish Electronic Frontier Foundation, along with street artist Sampsa, managed to get the required amount of people to sign on for their "Common Sense in Copyright Act" proposal (here in Finnish), with means the Finnish parliament will now vote on it.
Here's a Google translated document of the Act, but as legalese can be difficult enough to decipher as is, let alone when it's translated by Google Translate, Torrentfreak has offered a brief description of the proposal:
"decriminalisation of file-sharing, reduced penalties for copyright infringement, increase fair use, ban unfair clauses in recording contracts, and ease the ability for people to make copies of items they already own for backup and time-shifting purposes".
The one apparent odd one out in that list is the "ban on unfair clauses in recording contracts". Was that red-herring clause thrown in there in order to prevent artists from speaking out against the rest of the proposal?
And what, specifically, is an "unfair" clause? Record contracts are the result of commercial negotiations involving legal representation of all parties. As with any such negotiation, if the terms are deemed too harsh by either of the parties they can choose not to sign it.
Is the government now going to get involved in business negotiations – but only it concerns creative work?
Some have claimed this "crowd-sourced" road to legislation true democracy in action, but is it really? And, if it is, is it a "democracy" other countries should adopt?
Here are three reasons why they should think twice about it:
1. Do we want laws to be written by people who have no legal experience or deeper understanding of the laws, and the unintended ramifications due to its complexities?
This mimics a suggestion (hopefully, done in jest) by Simon Cowell that citizens should be able to vote on all government proposals in the same way that they vote for X Factor contestants (though, sensibly, the Finnish constitution still requires parliament to do the final vote). Note that a larger percentage of the UK population voted for the latest X Factor winner than the percentage of the Finnish population that have signed on for this proposal.
While governments are tasked with considering how laws affect all citizens, most people tend to only consider how a law will affect them personally. For example, drivers who have never experienced someone they know being the victim of a speeding accident would most likely vote to abolish current speeding restrictions.
2. What are the chances that the 50,000 people who have signed up for this proposal have actually read through the entire proposal?
…and understood the complexities of how copyright works?
Considering how many people sign petitions that oppose any sort of copyright enforcement because it will "break the internet", the figure is probably pretty low.
3. This isn't a neutral proposal.
The chairman of the Open Ministry, the organisation that coordinates public proposals, says that this proposal "breaks with an old tradition where lobbyists draft copyright law". Yet a quick look at the organisation's website shows that it's nothing like neutral, as it pleads support to anti-copyright campaigners such as France's La Quadrature du Net and "Derek Khanna's camp".
The Electronic Frontier Foundation is an organisation sponsored by Google. Just because an organisation calls itself "not for profit" and claims it stands up for consumer rights (as the EFF does) doesn't mean it's not lobbying for the corporations that sponsors it (read more here about all the "non-profit" anti-copyright organisations Google and Facebook give money to).
Besides, I'm a consumer and an artist, and they sure don't stand up for me.
No doubt, a discussion about how copyright enforcement can be reformed to fit the age we live in would be welcomed by most people, including those working in the arts – but it should be a discussion where all those affected, including creators, are at the table.
If the Finish government would vote for "The Common Sense in Copyright Act" as is, it would be akin to tech corporate-sponsored anti-copyright lobbyists drawing up our laws to suit their cause, instead of democratically elected members of parliament.
Pioneers of democracy? Hardly.