Criminal streaming of copyrighted works is currently considered to be a violation of the public performance right, and so only punishable as a misdemeanour.  But the US Department of Commerce Internet Policy Task Force is now looking to make it a felony on par with criminal reproduction and distribution.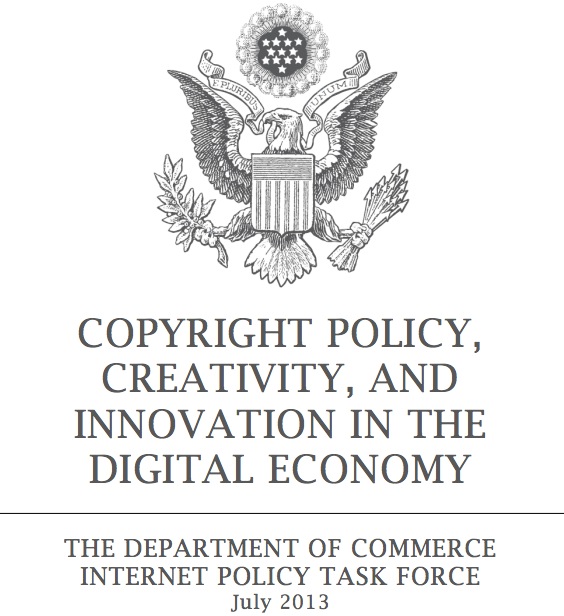 The Task Force's argument for the change appears pretty sound: as the way we "consume content" changes, so should the law. Criminal streaming is clearly a bigger issue for TV and movie companies than downloading, these days, as it competes with legal streaming platforms such as Netflix.   But it's also a thorny issue for legal music services such as Spotify.

Unsurprisingly some tech bloggers have attacked the suggestion.

But the SOPA sticking point that triggered the internet "blackout" protest, DNS blocking, appears to be off the table. The report states that "while online piracy by foreign websites is a serious problem that requires a serious legislative response, we will not support legislation that reduces freedom of expression, increases cybersecurity risk, or undermines the dynamic, innovative global internet".
Though, of course, it can be argued that several European countries, including Denmark and the UK, have blocked sites such as The Pirate Bay and Newzbin1 without any repercussions in those fields.
Still, there are other issues in the 122 page document that could have major implications for the music industry – in particular regarding licensing.  It acknowledges that music licensing is particularly complex, pointing to the fact that non-interactive streaming services such as Sirius XM and Pandora only need a statutory licence for the recordings and public performance licenses from PROs (ASCAP and BMI) or individual publishers – but interactive streaming services such as Spotify need individual licenses from labels and both public performance and mechanical (reproduction) licenses from individual publishers.
The solution, it suggests, could be "legislative adjustments" converting mechanical licensing into collective blanket licensing. Considering that all the major publishers are moving away from collective licensing by pulling their digital licensing rights from PROs in order to negotiate their own deals with music services (note how SonyATV negotiated its own deal with Pandora and managed to increase its royalty rate), this recommendation will come up against considerable resistance.
A prominent recommendation in the report may, however, put a big smile on the faces of artists and labels alike: extending the public performance right for sound recordings to cover broadcasting.
The full report.