Artists were once fearful of speaking out against piracy, not to mention paltry payouts. But that seems to be changing in dramatic fashion.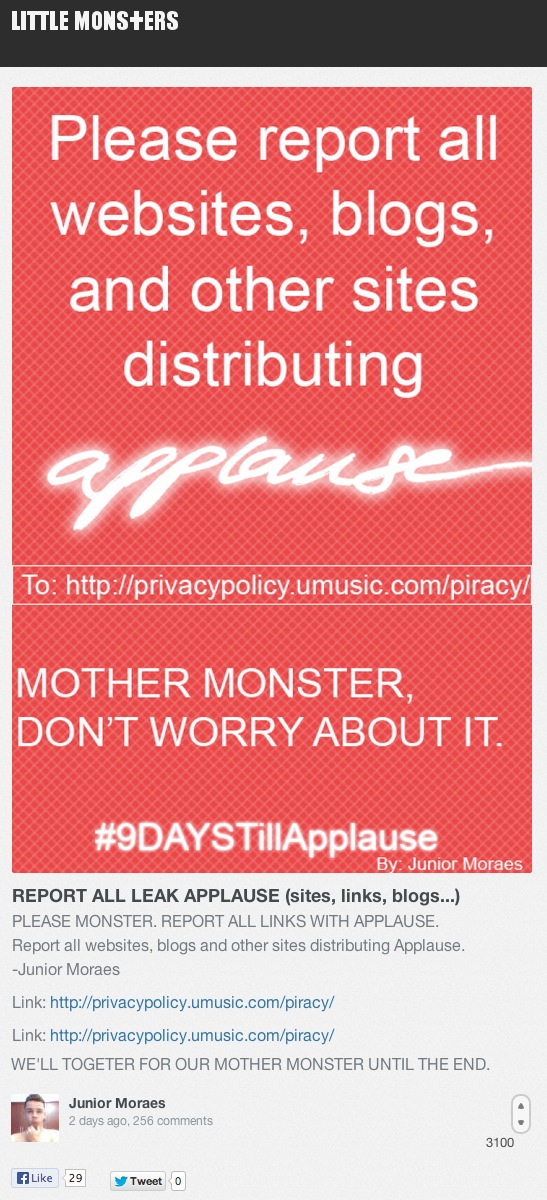 The leak of Gaga's upcoming single, "Applause," first emerged over the weekend (more than a full week ahead of release). These appear to be pre-release, rougher versions, perhaps the worst form of piracy experienced by artists.
Updated: Lady Gaga has now rush-released 'Applause,' with distribution to broadcast radio (US now, then international shortly thereafter), iTunes, and YouTube. More details here.
The extremely unusual public shaming is now a coordinated effort involving Lady Gaga, Universal Music Group, and die-hard Little Monsters. Which has subsequently led to removals and shutdowns at familiar places like Soundcloud and Perez Hilton.
Sounds like the emergence of crowd-sourced anti-piracy, with other artists potentially following suit. Gaga first sparked the outrage, and even lent support to another artist suffering a big leak, Katy Perry.