Free downloads don't count towards Billboard's Top R&B/Hip-Hop Albums chart.  So it must have come as some surprise to unsigned artist Chance the Rapper when his mixtape, Acid Rap, entered the chart at #63 with sales of 1,000 copies for the week ending July 7th.  The album had been offered for free on his website since April 30th. It turns out that a company had taken it upon itself to sell the mixtape on iTunes and Amazon, without the knowledge or permission of the artist or his representatives – and without passing along any of the revenue. Both retailers pulled down the digital versions of the mixtape when alerted by Chance's representatives.  Yet an apparently bootlegged physical version continues to be on sale on Amazon, credited to a mysterious company called Mtc, for $14.83 in the US (in the UK, the price is a whopping £15.88/$24.66). Of course, it's somewhat puzzling that people would pay for a mixtape they can legally download for free.  Perhaps they aren't aware of the free download version – or perhaps they mistakenly believe that they are financially supporting an up-and-coming artist by paying. Chance's manager, Pat Corcoran, told Billboard two weeks ago: "I've never heard of Mtc, so this has taken us by surprise, but when I first saw it I showed Chance, and his lawyers are trying to stop it."
It appears this is easier said than done: the above screen shot was taken from Amazon today.
All of which brings us to another, similar situation: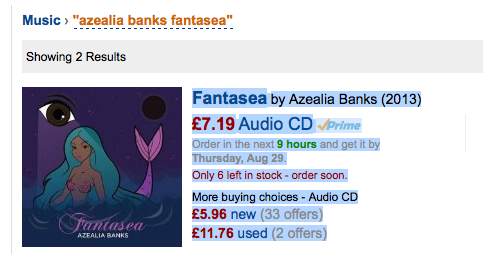 The same situation seems to be happening to Azealia Banks, whose Fantasea mixtape is currently available as an official free download on her site, while an apparent bootleg CD is currently being offered on Amazon for £7.19 ($11.16).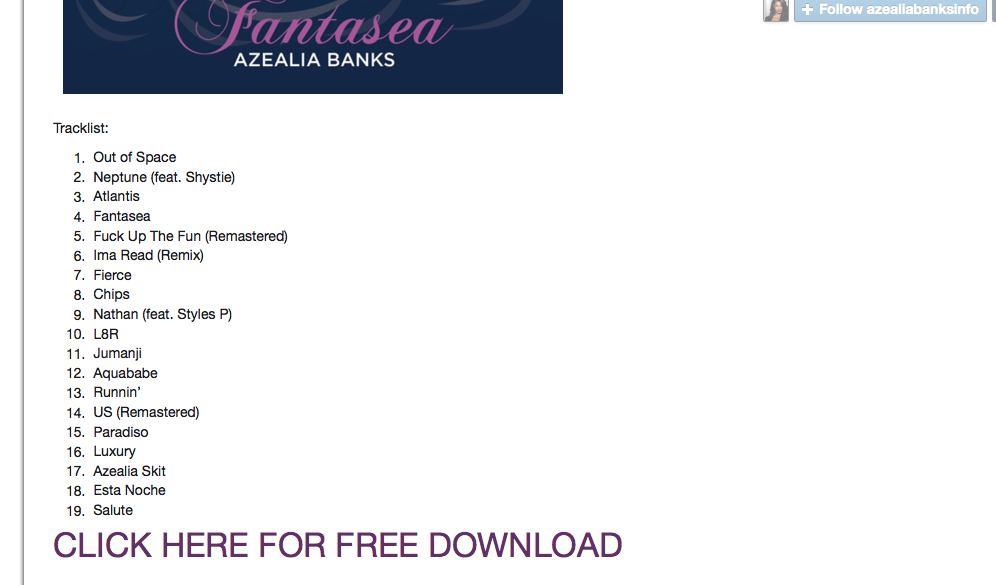 It's hard to get straight answers.  An employee at Mtc's distributor, 1-Stop Distribution, confirmed to Billboard that it sells Acid Rap but wouldn't say where it obtained the rights to do so.  When approached on the subject, Amazon's press officer simply referred to the company's standard disclaimer:
"Amazon respects intellectual property rights and we have an established process in place which enables rights owners and their agents to notify us of alleged infringements such as copyright and trademark concerns. We respond rapidly to any such notice. Please see here for details: https://www.amazon.co.uk/gp/help/reports/infringement."
Unfortunately, these are far from the only musicians who have found their music being sold without their knowledge.  A songwriter I know recently had one of his tracks rejected by a record label because, they said, the track had already been commercially released.  Unbeknownst to my friend, the demo had been intercepted while making the rounds among A&Rs.  These 'dodgy Russians,' as he referred to them, put the demo up for sale on iTunes, Amazon and a multitude of other retailers, under a made-up name, while pocketing all the revenue from it.
The songwriter had to take the culprits to court in Russia to prove that the track belonged to him.
Though the songwriter had registered the song with STIM, the Swedish collecting society, the recording itself wasn't registered with an ISRC code (which is used to identify your track as yours in order to receive accurate payments), as it wasn't for sale, but simply a demo. This explains why he had no idea that someone had stolen and distributed his track.  It could also explain why Amazon has been selling a bootleg of Acid Rap: most unsigned artists would see no point in registering a record with an ISRC code when it's simply being given away for free, but that could then leave the door wide open for someone else to take the opportunity to register it under their own ISRC code. As the majority of unsigned artists don't have the money to take someone to court, it's now clear that they should register all their recordings with an ISRC code, whether it's a demo or a free download.   And, just hope that retailers remove any record for sale that is subject to a dispute.
But Amazon has clearly been made aware of the controversy surrounding the Acid Rap bootleg – so why is it still for sale on its site?  We can only assume that the retailer continues to collect a commission on every copy sold.