There's a simple reason why this is happening, of course: Spotify is burning a ton of cash at an extremely aggressive and probably unsustainable rate.  According to recently-released financial statements, the company has burned through than $206 million since 2008 alone, which doesn't even count 2013.  Total financing, since inception, is 'just' $288 million, according to Crunchbase.   
Which means Spotify's running out of money, and needs a lot more to keep this bonfire raging.  According to a report from Swedish newspaper Dagens Industi, Spotify is seeking a massive investment that would value the company at more than $5.3 billion.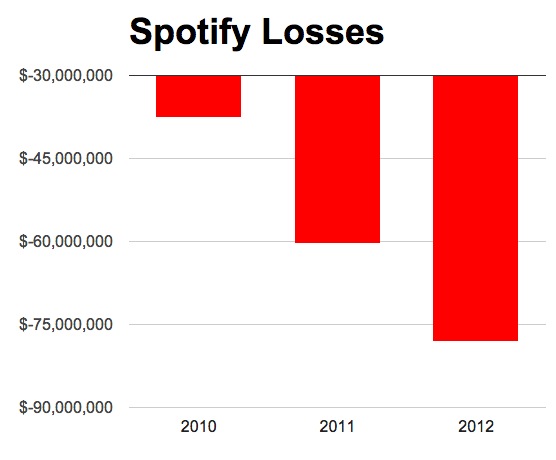 That would represent a 75 percent jump in the company's valuation in just 10 months, and puts an acquisition out of the reach of almost every company on this planet.  It also means that a $100 million investment would give the investor a mere 1.9 percent share in the company.
So who would make that bet?  Even more interesting, Dagens also reports that this may come in the form of a straight loan – ie, the kind you have to pay back with interest – instead of equity financing (with ownership shares).  Spotify declined to offer any comment to Digital Music News on the matter.  "Spotify's two founders, CEO Daniel Ek and Martin Lorenzon,  don't want their holdings diluted," the Dagens report continued.
"Instead, they are inclined to borrow money in order to continue to grow at a rapid pace."