There's a new music startup in town, but this time, the target audience is those already creating the music.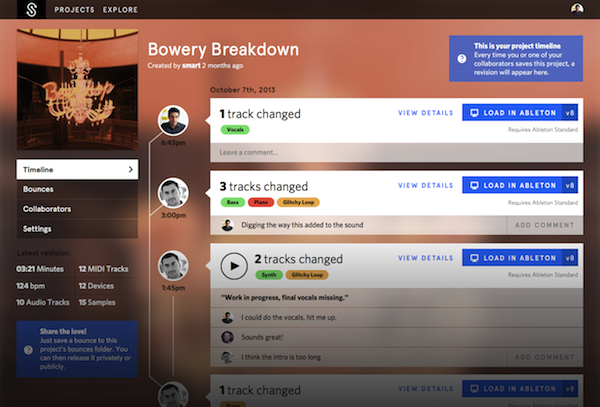 Today, Splice announced that they are in private beta and have raised $2.75 million.  The startup comes from GroupMe co-founder Steve Martocci and Matt Aimonetti, a previous LivingSocial and PlayStation engineer.  The seed funding comes from Union Square Ventures, Warner Music Group's COO, David Tisch of TechStars, Seth Goldstein of Turntable.fm, and others.
Splice will make collaborating during the song-making process much easier, providing an online project hosting platform that works with digital audio workstations.  The service provides a downloadable program that integrates with Ableton Live 8 and 9; support for Logic, Pro Tools, Reason, and others is coming. Projects are saved online, allowing you to go back to previous versions of the file at any time.
Splice's most exciting aspect is the ability to add collaborators to a project, who gain access to saved versions of the work and run it in Ableton. Your collaborator can edit the project and save it back to the Splice timeline.
In pre-Splice archaic times, we had to zip the very large Ableton file, save it, and then the associated samples wouldn't even be there.  Now that headache has a solution, Splice also uploads project samples.
The Splice platform also allows posting of completed tracks.  This will show more than just a Soundcloud waveform, as the building blocks of the song are shown.  A pretty cool new way to show off your work.
Right now, Splice will most likely appeal to young producers who want to share and collaborate with other producers.  If Splice can get the word out they will surely have a hoard of sign-ups.
Martocci told TechCrunch that they will eventually have a premium model with extra features.  They want to artists to be able offer incentives to fans, including glimpses into the creation process.