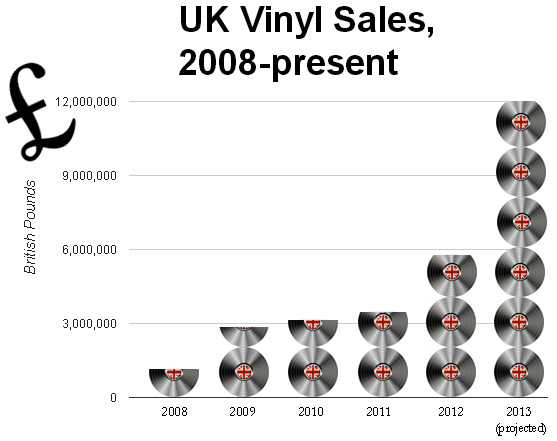 The vinyl resurgence we've been discussing isn't just confined to the US.  In fact, the explosion is even bigger in Britain, at least on a percentage basis.
The BPI, which represent Britain's recorded music industry, has announced that vinyl sales in the UK are higher than they've been in a decade.  Last year, vinyl sales reached sales level of £5.7 million according to the Entertainment Research Association (ERA); this year, the BPI says that figure could easily reach £12 million.
Let's see how this little trend progresses.  Wax now makes up 0.8% of all albums sold, which doesn't seem like much but utterly dwarfs the paltry 0.1% from 2007.
So far in 2013, the UK has seen 550,000 LPs purchased, 100% more than the amount sold last year. In comparison, 4.1 million units have been sold in the US, 30% more than last year.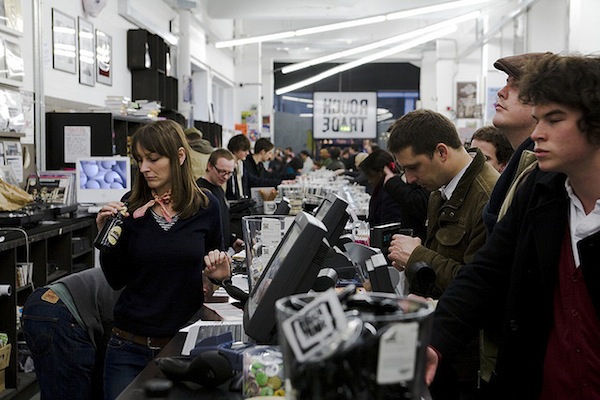 The BPI also highlighted the importance of Record Store Day in this revival, as £2 million ($3.2m) in LPs were sold on Britain's 'RSD 2013'. The US version of the unofficial holiday saw 200,000 records sold.
Beyond cool album art and better sound, MP3 download cards are often a selling factor for vinyl. The format is a shining light in an industry that has taken a prolonged nosedive, with UK-based album sales plunging at record rates.
Images: (top) Digital Music News, using data from Entertainment Research Association (ERA); (middle) Death Waltz Recording Co., licensed under Creative Commons Attribution 2.0 Generic (CC BY 2.0)