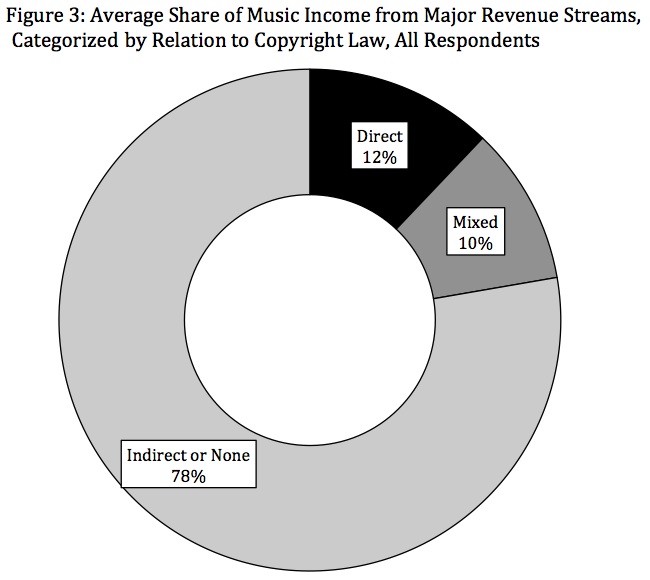 The purpose of copyright is to encourage the production of intellectual property by offering protection and compensation to its creators.  But what if those creators are enjoying neither protection, nor compensation?
Well, this is what happens: according to a study conducted by Peter DiCola of the Northwestern University School of Law, artists are now, on average, deriving a relatively tiny percentage of their income directly from copyrights.  The rest is coming from activities like live performances, session work, merchandising, or teaching.  None of these categories are directly tied to copyright protections (if at all), and the benefit of tightened copyright control wouldn't impact these revenue streams.
"A hypothetical boost in revenue from more effective enforcement would only increase the average musician's total revenue by a small amount today, in the short term," DiCola assessed in the finding.  "Stronger copyright might provide them incentives to move up the income ladder in a winner-­take-­all kind of market.
"But it will not put more money in their pocket today; for the hypothetical legislation to help them in the future, they must get rich first. It will not help them directly today."
DiCola plunged into a survey dataset of more than 5,000 musicians (assembled by the Future of Music Coalition), all of whom were asked to break down their income streams over the past 12 months into eight categories.  Some of these categories were directly linked to copyright protection; most were not.
In the end, DiCola realized that the 'artist' is actually an incredibly complicated beast, and tough to reduce into averages and sweeping generalities.  Radical differences not only exist between genres, but different levels of success within those genres.  But the broader point may be that current copyright debates frequently have nothing to do with the artist at all, and almost everything to do with the companies surrounding the artist – record label, publisher, estate, or lawyer.   "There are huge amounts of money involved on both sides of this fight, extremely little of it earmarked for artists," Zoe Keating once told Digital Music News.
"Neither side has my best interests in mind."