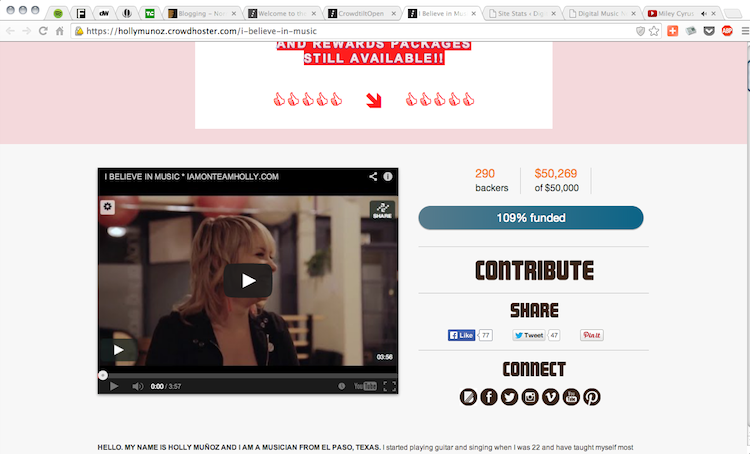 Holly Muñoz's successful CrowdtiltOpen campaign
If you're a musician or an entrepreneur looking to crowd-fund a project, there's no shortage of options. There's Kickstarter, Indiegogo, PledgeMusic …etc.   So what's different about CrowdtiltOpen, the newest type of crowd-funding service?
CrowdtiltOpen is open source and customizable, letting users run their own white label campaign. No more linking to third party sites, no more sticking to the designs created by other platforms.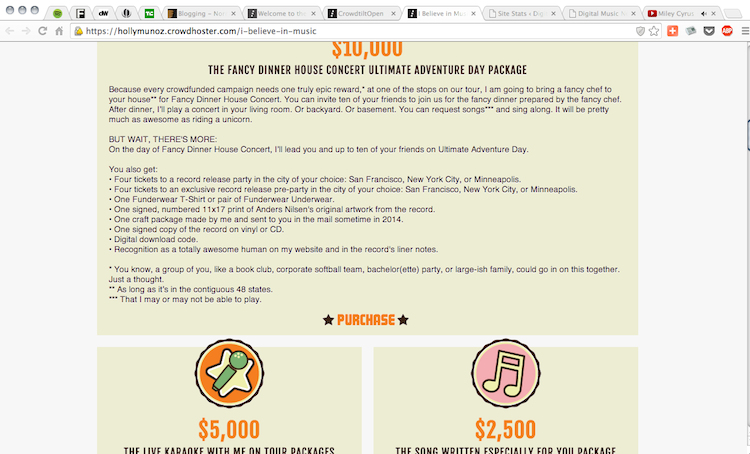 CrowdtiltOpen was previously in private beta under the name Crowdhoster. Now the service is available to all with customizable design and support for third party plugins. Users can design their page without having to code. Here's a list of features:
In the future CrowdtiltOpen will allow Bitcoin payments and will introduce shopping cart and promo code features.
CrowdtiltOpen has already powered campaigns that have seen a lot of buzz:
Soylent ran the first campaign, raising $2.1 million from over 20,000 people.
Immunity Project raised $462,000 for an HIV/AIDS vaccine 10 days ahead of their deadline.
McSweeney's used the service to run a subscription drive and raised 204,166 percent of their goal.
WordPress co-founder Matt Mullenweg had this to say about the service:
"Crowdhoster is doing for crowdfunding what WordPress did for blogging."
In December of 2013 CrowdtiltOpen's parent company Crowdtilt (which also runs a slightly different service) raised $23 million. The funding came from Andreessen Horowitz, SV Angel, Sean Parker, Matt Mullenweg, Oliver Jung, DCM, Felicis Ventures, Naval Ravikant, Alexis Ohanian, Elad Gil, and more.