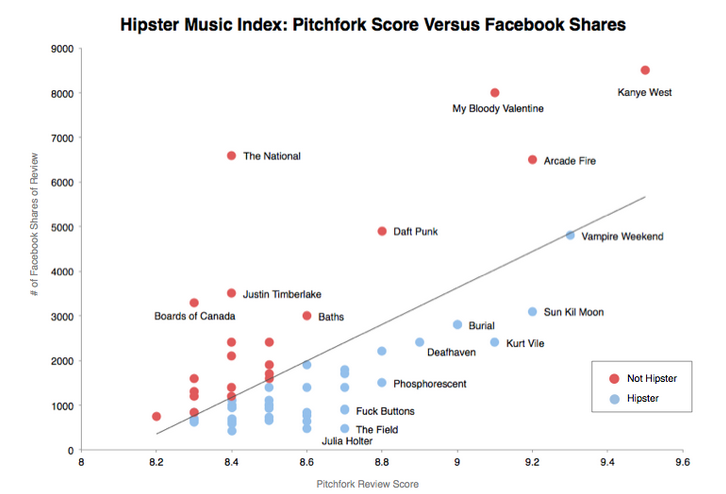 Chart via Priceonomics Data Services
So what exactly IS "hipster music"?  Is Vampire Weekend cool?  What about Danny Brown or Haim?  Is hipster just a buzzword that doesn't actually mean anything?  Nevertheless, this data is interesting…
Priceonomics has mathematically determined which bands are hip and which are not.
Pitchfork "best new album" scores were weighted against the amount of Facebook likes the Pitchfork post received.  Priceonomics defined a hipster band as having a high Pitchfork rating and a low amount of Facebook likes, indicating obscurity.
The list of the top 25 hipster bands makes some sense…. Julia Holter, Autre Ne Veut, Waxahatchee… I can see it.   But the formula kind of falls apart when it comes to rap.  A lot of hipster-types listen to Drake and A$AP Rocky, but they're not obscure at all.  Disclosure's inclusion is questionable as well.  Maybe only hip people listen to them in the States, but they're one of the biggest bands in the U.K. right now.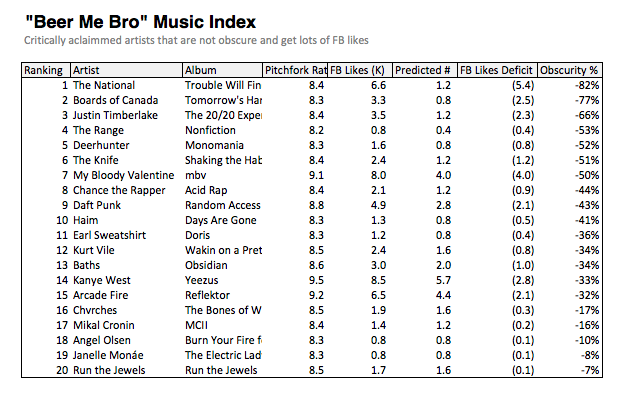 Priceonomics also compiled a list of bands that might be perceived as hipster but aren't because everyone knows about them.  If you were listening to Chance the Rapper, Haim, or Chvrches last year you could have been impressed with yourself, but not anymore.