Nobody forced them to do the work.  But were they abused?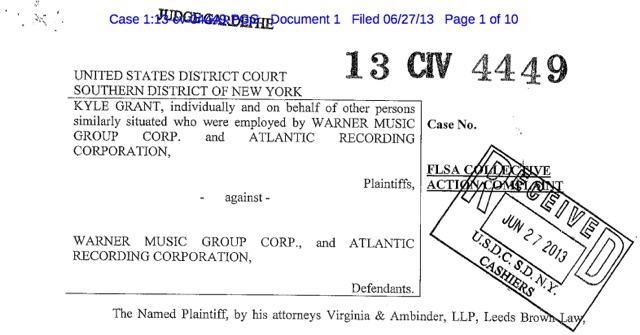 On Tuesday, a New York federal judge approved a massive class action lawsuit against Warner Music Group, one that now involves more than 3,000 interns.   The lawsuit, first filed in June of last year, alleges blatant violations of minimum wage and overtime requirements, and major infractions of the Fair Labor Standard Act.
May 13th: Warner Music CEO Selling His $30 Million Manhattan Penthouse
The class action, sparked last year by ex-intern Kyle Grant, alleges that Warner Music Group and its subsidiaries routinely abused interns by focusing their energies on things like fetching coffee and grabbing lunch for paid employees.  Unfortunately, these tasks carry little-to-no educational or vocational value, which is a critical requirement for unpaid, apprenticeship-style internships.
October, 2013: Warner Music Just Signed a $256 Million Lease In Midtown Manhattan
"During the Plaintiffs term of employment, his duties primarily consisted of answering telephones, making photocopies, making deliveries, creating lists, preparing coffee, getting lunch for paid employees, running personal errands for paid employees, and other similar duties," the complaint alleges.
"Defendants did not provide academic or vocational training to Plaintiff of members of the putative collective."
If the case is successfully litigated, Warner Music Group could owe millions in backpay, and be forced to radically change its intern employment rules.
Here's the filed complaint.