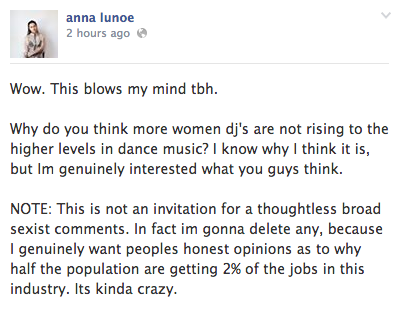 The statement above comes from DJ and producer Anna Lunoe regarding the following infographic. Lunoe has been touring the festival circuit, and recently played Coachella and Ultra.
Thump, Vice's EDM news site, has tallied how many women were booked at some of the most popular electronic music festivals. They compared Ultra, EDC, Electric Zoo, Spring Awakening, Mysteryland, Mutek, and Movement.
In comparison, 20.4 percent of Coachella's lineup and 18.2 percent of Bonnaroo's lineup is female. However, Coachella's dance music tents only had four female acts.
Thump also says "no female artist has top billing at a major North American dance music festival".
At the end of last year, Destructo (the founder of HARD Festival), announced plans for all-female festival dates. This idea came from his desire to include and showcase females in electronic music. There has been no follow up to this announcement.
Nina Ulloa covers breaking news, tech, and more. Follow her on Twitter: @nine_u