The following guest post comes from music industry attorney Steve Gordon.  It was written with the assistance of Mona Goodarzi, a senior at UC Berkeley, and Brooke Weinberg, a rising law student at Hofsta Law School who also works part-time as a booking agent with Gotham Rocks.
The recording industry has suffered a cataclysmic decline in revenue since 1999—the dawn of the digital era.  Many experts and executives are now pinning their hopes that streaming, particularly interactive streaming services, such as Spotify and Beats Music will "save" the record business.  And there has been a universal chorus of cheers amongst the most powerful in the business for Apple's acquisition of Beats Music.
But the reality is that Apple's acquisition of Beats will probably help Apple sell more iPhones, but it is doubtful that it will significantly benefit artists or indie labels, or anyone else besides Apple, Jimmy Iovine, Dr. Dre, and the three major labels.
Here's why:
Current State of the Recording Industry: Cataclysmic Decline in Revenue
The following graph, which was generated by data from the Recording Industry Association of America ("RIAA"), shows the crisis that has beset the recording industry: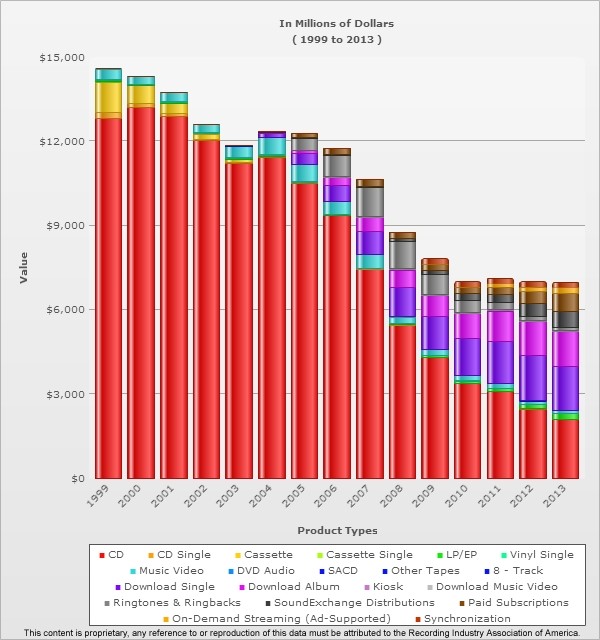 The graph shows that in 1999, income from sales and licenses of recorded music in the United States was approximately $14.5 billion. Since that year, revenues have dropped to less than $7 billion – a decline of more than 50%.  After accounting for inflation, the drop is over 75%, meaning that the business is only 1/3 of what it was.
Worldwide, the figures are even bleaker. According to a report from the International Federation of the Phonographic Industry (IFPI) issued in early 2014, global revenues from recorded music were approximately $15 billion in 2013.  In 1999, those revenues exceeded $38 billion according to IFPI's report in 2000.  That's a steeper decline than in the United States.
But it gets worse. The following graph shows that, accounting for inflation, the recording industry in the U.S. is at its lowest level since the RIAA began keeping tabs on industry-wide income in 1973.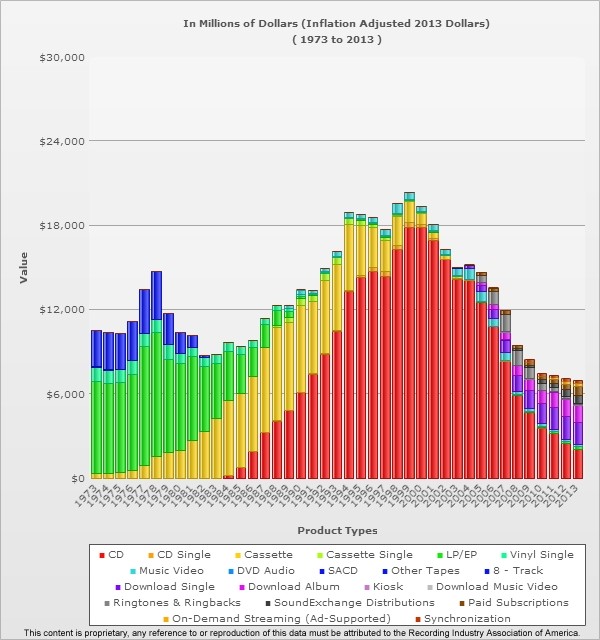 Reasons for the Decline: Apple's contribution
Many have speculated on the reasons for the decline of the recording business. The two main theories are:
(1) the Internet has made it easy to provide and share unauthorized music, and
(2) the major record companies did not react fast enough to the digital revolution.
I think both theories are true, but for as much as any other reason, I think the emergence of iTunes itself was incredibly harmful to the business.  iTunes turned what had been an album business into a singles business.  Steve Jobs' insistence on offering to sell individual tracks encouraged those people who continued to actually buy records to "cherry pick" their favorite songs rather than pay for an entire album.  The labels probably thought they did not have a choice, as they were desperate to do something to compete with unauthorized P2P file sharing, and to monetize digital music.
The Emergence of Streaming as the Revenue Model of the Future
Revenues from CDs continue to decline. However, for the first time since the introduction of iTunes, income from downloading has declined as well as this chart indicates: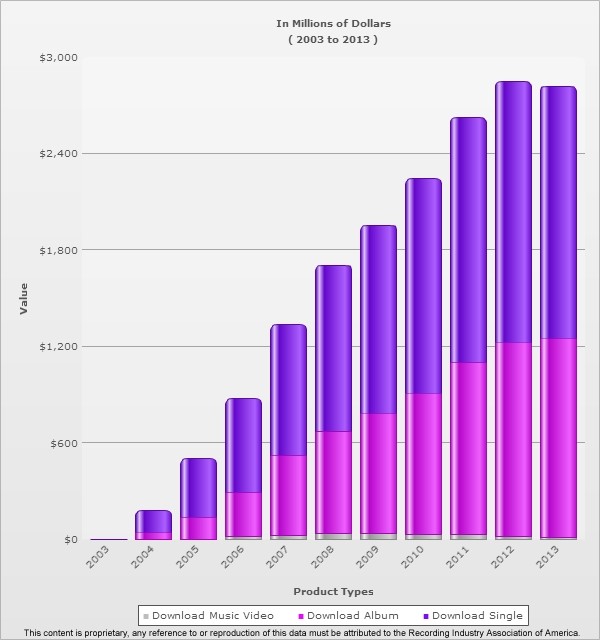 The current hope of the recording business is the possibility that streaming can save the day. There are three types of streaming. They are:
(i) Non-interactive "Internet radio" type services such as Pandora, Sirius XM, iRadio, iHeart Radio, Songza, etc.;
(ii) Advertising-based interactive streaming such as the free versions of Spotify and Pandora; and
(iii) Subscription services, such as premium Spotify, Beats Music, Rhapsody, and Google Play Music.
It is true that these three sources of new income have been growing, as the following chart indicates: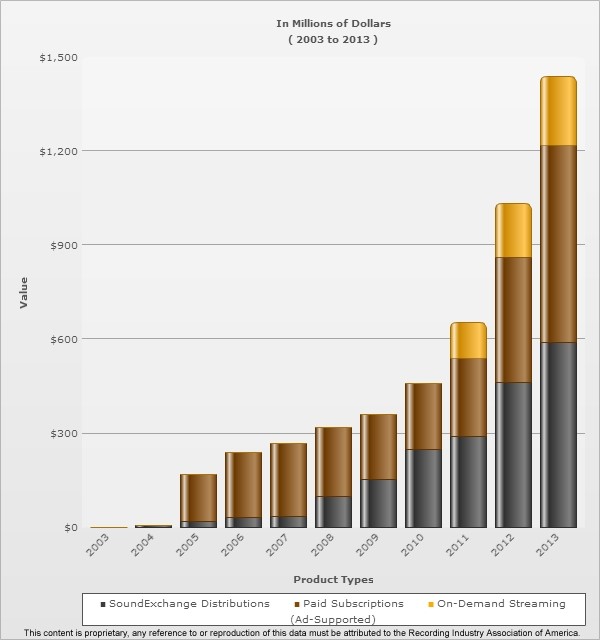 But Will Streaming Reverse the Record Business's Cataclysmic Decline?
Probably not.  Although the success of streaming in the last three years has softened the losses that the Recording Industry has experienced since 1999, the recording industry (1) has not recovered at all, and (2) is still declining—although not as fast as in prior years. The conversion rates from free ad-supported Spotify and Pandora to their premium services is disappointing. Expecting people to pay $10 per month—or any amount of money per month—seems almost absurd when you consider how music is so easily available for free, sometimes by the same services that are asking money for premium listening, and more often by quasi-legal software and apps such as programs for converting YouTube to MP3s or apps that make free playlists from YouTube.
And the money that music streaming services such as Spotify and Pandora earn from advertising is limited because money from advertisers will always be at the mercy of marketing budgets, which have been slow to adopt streaming audio as a place to buy. Neither Pandora nor Spotify are profitable; in 2013, Pandora lost $38 million.
Apple's Purchase of Beats Music: Another Cynical Move to Sell Hardware at the Expense of the Recording business?
On May 29, 2014, Apple announced that it would purchase Beats Music for $3 billion. In so doing, they acquired both the financially successful Beats headphones business and the far-from-successful Beats Music streaming subscription service. Apple may have wanted the streaming service even more than the revenue from the headphones business. Downloading is going down and streaming is going up. Apple already has an Internet radio service, iRadio. But Beats puts them in the interactive streaming business.
With over $150 billion in reserve revenue, the $3 billion that they paid for Beats was a drop in the bucket. Apple could also decide to charge less for subscriptions for Beats than Spotify charges, or offer Beats for free for a period of time after the purchase of a new iPhone, or even bundle for free with new editions of iPhones and iPads. Even if they had to pay major record labels minimum guarantees or advances and lose money on Beats, they could generate increased sales of their gadgets.
This was exactly Steve Jobs' strategy for initiating iTunes. Although iTunes has sold over 25 billion songs worldwide, no one can be sure how much Apple has profited from iTunes. That's because the store generally pays 70% for music content including recordings and songs, and on top of that, Apple has to pay for bandwidth, marketing, transaction costs, staff, overhead, and other expenses.
It is beyond dispute, though, that after the introduction of iTunes in 2003, Apple's sales of iPods, introduced in 2001, skyrocketed.
In January 2007, Apple reported record quarterly revenue of $7.1 billion, of which 48% was made from iPod sales.  Apple has made even more money from iPhones than iPods.  In fact, iPhones are the most profitable product on earth.  In the first quarter of 2014, which runs from the beginning of October to the end of December, the company earned a record $57.6 billion in revenue; 56% of that income came from iPhones and only 7.6 % came from iTunes, and some of that revenue was from movies, videos, and other content besides songs.  But like iPods, the success of iPhones is largely based on its ability to play recorded music including free services such as YouTube and Pandora, and apps that allow you to listen to free music without advertising such as InstaTube.
The point is that Apple has used music to sell technology more than it has used technology to sell music. And if Apple bundles or discounts Beats Music with purchases of new iPhones, Apple will sell even more iPhones.
But even if Apple offers Beats for the same $10 as Spotify's Premium service, the royalties to indie artists and indie labels will be as dreadfully low as Spotify has been paying. Even though Spotify claims to pay 70% of its income for music, the average per play pay-out is approximately .004. So for every 10,000 streams, an unsigned artist or indie label can expect to make no more than $40.
However, it is well-known in the industry that the three major labels receive millions in advances from Spotify, Beats Music, Rhapsody and the other interactive streaming services. Now that Apple has purchased Beats, it is doubtful that indie artists or labels will do any better than before. But the major labels can rest easy knowing that they will collect their millions in advances. Moreover, artists signed to major labels may receive no money at all. Because of the operation of provisions in the standard recording agreement that allow labels to retain monies for "blanket licenses" of their catalogue. For instance here is a provision from a standard major label recording agreement:
"…No royalties or other monies shall be payable to you or Artist in connection with any payments received by [label] pursuant to any blanket licenses under which the Licensee is granted access to all or a significant portion of [label's] catalog of Master Recordings, Covered Videos, Records and/or any other type of materials contemplated by this Agreement."
Apple's acquisition of Beats Music is therefore great for Apple and the owners of Beats. But it will not help restore the recording industry to its former glory, and it certainly will not benefit indie labels or artists.
Top image by hobvias sudoneighm, licensed under Creative Commons Attribution 2.0 Generic (CC BY 2.0).  All other graphs courtesy of the RIAA.