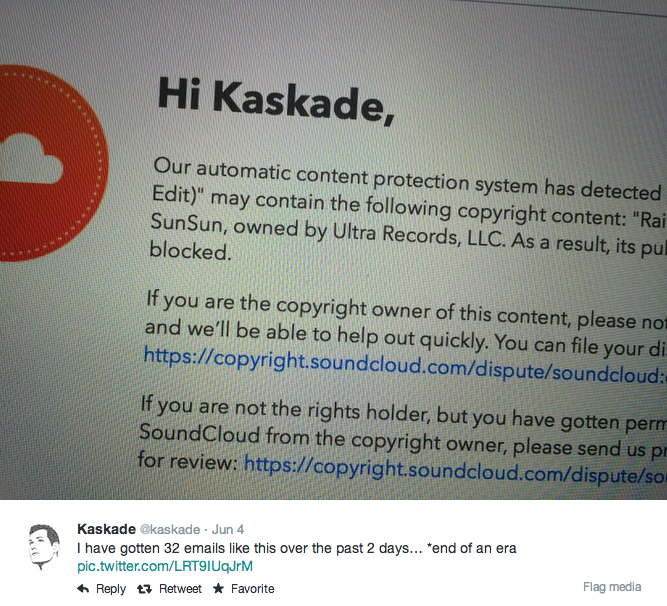 Kakade recently took to his blog to explain a series of tweets he sent about deleting his SoundCloud account. 70 percent of his tracks have been taken down by SoundCloud, and he will now be creating his own platform (kind of like deadmau5).
Some of the deleted tracks were signed over to Ultra, and are now owned by Sony. Kaskade says he is authorized to post those on his account. The other deleted tracks were mashups. Kaskade knows that he legally can't post these mashups, but he thinks he should be able to.
Here's an excerpt of Kaskade's blog post, in which he explains his philosophy on mashups and music sharing in general.

There's always been this cagey group of old men who are scared to death of people taking their money. Back in the day, they were upset that the technology existed to record onto cassette tapes directly from the radio. "What! (Harumph!) Why will people buy music if they can just pull it out of the air?!" Yet, people still bought music. Because it was more accessible. Because more people were exposed. Because Mikey played it for Joey on the corner and then Joey had to have it. It's music, and we buy what we love. We can't love music we haven't heard.
Innovation helps the music industry. The industry only needs to make the effort to keep up and adapt. Make no mistake: exposing as many people as possible to music – all music – is a good thing. Everyone wins. The artist, the audience, even the old guys who just want some more cash.
The laws that are governing online music share sites were written at a time when our online and real-life landscapes were totally different.
Our marching orders are coming from a place that's completely out of touch and irrelevant. They have these legal legs to stand on that empower them to make life kind of a pain-in-the-ass for people like me. And for many of you. Countless artists have launched their careers though mash ups, bootlegs, remixes and music sharing. These laws and page takedowns are cutting us down at the knees.
And yo, musicians definitely need knees.
We have moved beyond the exhausting notion that our greedy hands need to hold onto these tunes so tightly. The world just doesn't work like that anymore. I'd happily parse out the pieces of every song I've made for others to use. Remix that. Use that. Think you could do it better? Show me. It's laughable to assert that someone is losing money owed to them because I'm promoting music that I've written and recorded. Having the means to expose music to the masses is a deft tool to breathe new life into and promote a song. It's the most compelling advertising, really.
But it's more than advertising. It's sharing. If a person likes one song, then you know what's likely to happen? They'll press the download arrow and own it for free. You won't believe what happens next! They become familiar with the artist, and seek out other material. Maybe they buy that. Maybe they talk about it online. Maybe they go to a show. Maybe they simply become a fan and tell a friend.
I'm cool with that. The labels should be too. It's exactly what they're trying to accomplish by funneling endless money for Facebook Likes, Twitter trending hashtags, and totally ridiculous impotent advertising campaigns. Let the people have the music. Or, to put it in language that makes more sense for the ones who can only speak dollar bill – Free the music, and your cash will follow.