The following speech was delivered Monday, October 28th, 2013 at the Future of Music Summit in Washington, DC, by Tim Quirk, Head of Global Content Programming at Google Play.  The speech was first published on Digital Music News on November 1st (original discussion below).
"So I had a whole paragraph telling you who the hell I am and why you should listen to me, but [Future of Music co-director] Kristen [Thomson] just did that, so I'm gonna skip that part.  I will say I have been watching the music business respond to the perils and possibilities of digital distribution for a good long time from a variety of different perspectives and I've become pretty opinionated on the subject. But I before I spout some of those opinions, I wanna start with one I don't share.
It's a typical and to me typically depressing reaction to the recent explosion of online music services. A blogger for The New Yorker posted something last year that made me sadder and sadder each time I saw someone retweeting it approvingly.  It was supposedly about the tyranny of choice and how on-demand music services have made it harder to fall in love with music by making it too easy to listen to anything you feel like.  But the piece was really about how much fun the writer used to have spending hours in record shops that are now closed, hunting for LPs he could take home and slowly fall in love with, and how much he misses the experience.
In other words, it was soaked in nostalgia. If the writer were 80, I'd give him a pass, but I'm pretty sure he's younger than me, so fuck him.  I mean that.
I've been spending more time and money than I could afford in record shops since Jimmy Carter was president.  And I've been getting paid to figure out what aspects of that experience can and can't be replicated online since Bill Clinton was getting impeached.  And you know what that means?  It means I'm old.  That doesn't mean I don't consider my experience important; it is.
If nothing else, it's convinced me of one invaluable rule that everything else I'll say today flows from: Don't fetishize the past.
I'm pretty sure that's just good advice for living a happy life, but it's also my rule number one for the 21st century music business in general and for digital music merchandising in particular.  Don't waste time trying to find online analogues for offline experiences.  As I mentioned, I've been in the online music business since there's been an online music business and that article exasperated me so much because the writer was just repeating a Chicken Little cry I hear regularly and I heard it all morning long.
"We're devaluing music!"
It's amazing how often people invoke that word 'devalue' as if it means something.  It doesn't.  You know why?
Because you can't devalue music.  It's impossible.  Songs are not worth exactly 99 cents and albums are not worth precisely $9.99.
When I hear people complain about discount pricing in online stores or fret about on-demand services such as Rhapsody and Spotify, I rebut them with another rule of mine that makes me sound like a hippie but I promise I'm not:
Music is priceless.
I mean that literally and I believe that even more than I believe old people should shut up about how much better things were in our day.  Here's why.  The same song will always be worth different things to different people at different times.  The online music revolution hasn't changed that.  It's simply made the fact glaringly obvious.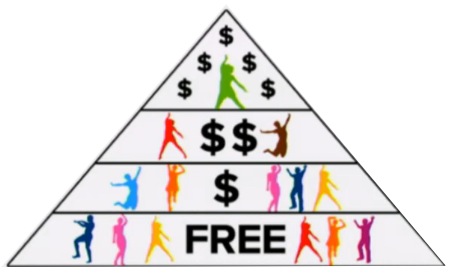 You can sketch this dynamic with a simple pyramid showing lots of people spending little or no money at the bottom and fewer people spending lots of money at the top.  If you're a new band, you begin at the bottom of that pyramid, but no matter how popular a given artist gets or how amazing her latest single is, there will always, always, always be more people in the world who don't care than who do.
So the goal for every artist and every song has always been to climb this pyramid, convincing as many people as you can to part with something in exchange for listening.  At first, you just want their attention.  The next step is to get them to give you some money for the privilege of hearing your song whenever they happen to get the urge and as you keep climbing the pyramid, you find yourself with fewer and fewer listeners but each one who remains is happy to give you more and more money.
These fans— the best fans— they'll buy alternate versions, deluxe editions; they'll come to every show; they'll get buried in a Kiss coffin, etc.
None of this is new.  What's new is that the casual fans no longer have to buy if they don't want to.  And while there is a lot of very real and quite justified angst that there's not enough money coming in from everyone else to make up for that loss, those casual listeners are also exhibiting an unprecedented hunger for more and more music.  That is not automatically a good thing, but it is a massive opportunity.
So what exasperated me about that New Yorker article was the writer's seeming contention that because he no longer has the same experience digging through crates and falling in love with a hard-won find, he's stuck at the bottom of the pyramid of everything forever.  His worry doesn't only bother me because I have a very low tolerance for nostalgia; it also upsets me because if he's right, it means I'm failing at my job.
That job has gone by different names on different business cards for different companies over the past decade.  It's variously been called editorial music merchandising or content programming, but whatever you call it, the object's the same.  We're here to help you through that maelstrom of musical choice.  We're here to pull people up each level of that pyramid.  But we don't do it the old-fashioned way by anointing a handful of artists geniuses and declaring selected albums masterpieces. We do it by building services that let thousands of potential masterpieces find their ideal audiences.
That's one reason my job's name keeps changing– it didn't really exist before 1998.  We're not exactly record store clerks, we're not exactly critics and we're not exactly DJs, although our ranks include people who learned what they know doing each of those things.  But in order to do whatever this job is well in the 21st century, you need something none of those professions are particularly known for.
You need to be very very humble.
Well, you need some arrogance.  You still need to think you know more than the average radio listener about the history of at least one genre of music; who's influenced whom, which of them ruled, which of them suck ass and why.  But you also need to recognize just how little that matters anymore.  It doesn't matter the way it used to because now that anyone with a laptop and an internet connection has a global airplay and distribution network at her fingertips, there's no such thing as a gatekeeper and everybody's a tastemaker.
At the same time though, that explosion of content has created a new, less sexy need.  Telling the entire world what it should and shouldn't listen to has become far less important than simply making this overgrown musical jungle navigable.  Online music services need bushwhackers carving paths from one starting point to another.  We're not gatekeepers.  We're not tastemakers.  We're park rangers.
Being a park ranger means our job isn't to tell visitors what's great and why.  Our job is to get them from any given thing they like to a variety of other things they might.  We may have our own favorite paths and being park rangers we probably even prefer the less crowded ones, but our job is to keep them all maintained so visitors to our park can chose their own adventure.  They might not feel our hand on their backs as they wander, but it's there.  It's just subtle.
So how does that work in practice? Here are three guiding principles:
There should be no dead-ends.
There should be different recommendations for different people
Context is more useful that opinions.
Principle number one means that wherever a visitor lands, there should be multiple trails leading someplace else.  Principle number two means you point each visitor to the trail he or she is most likely to enjoy rather than the trails you wish they wanted.  And principle number three basically means that no one cares what you think.  It's more important to give people some background information on what they're listening to, than it is to tell them whether you personally like it or not.
Now those are my principles, not every music service uses them and it would be a boring universe if they did.  But I think those three are the best for making the abundance of choice liberating rather than paralyzing, without precluding the chance that anything can happen.  Imposing order on chaos is particularly important at the bottom of the pyramid, [which] I've labeled that the free tier.
And it's true, that's where unlicensed peer-to-peer services operate.  But free in this context doesn't have to mean copyright owners aren't making money, it just means the listeners themselves aren't paying.  The free tier of Spotify lives here, as does YouTube, sites like Last.fm, Pandora, broadcast radio, NPR's music website and numerous other music discovery blogs.
I could've put anybody there, but NPR Music is my favorite.
[…fast-forward several minutes…]
So whenever you hear someone pontificating about music's new world order, including me, ask yourself if the stuff they're insisting on is going make capturing that attention and turning into something lasting easier to do or harder. But also make sure they're not just trying to wish the present away.
Capturing people's attention and holding on to it is the fundamental challenge for artists and labels and their managers in the 21st Century.
That New Yorker writer was lamenting the ease of discovering new things and while that makes me very impatient, it's true that unlimited shelf space is both a blessing and a curse of digital distribution. The internet stocks everything ever recorded, including not just every single out of print record and LP, but all kinds of music that's never been commercially available before.
So you're not just competing with your contemporaries. You're competing with the entire history of recorded music as well as a yearly infinite present.  That's scary but can also be exhilarating. If you're an artist who tours incessantly, changes up the set list every night and has a fan base eager to hear every minute variation as a given tune evolves night after night, we can put that on our shelves and we can do it in something very close to real time. Not every fan wants that of course, nor does every artist. But again, no two fans are alike, if you want to treat them all the same, you still can. It's a mistake, but you can.
But if you want to embrace the new ability to engage different types of fans in different ways, people like me are here to help however we can.
If you're self-released, you can upload your music directly to Play and set your own price.  If you're on a label, make sure they're delivering to us, make sure your metadata is pristine, and reach out to me to figure out how we can get creative together. Whatever we do together, please understand that music is never just a commodity to us; we're fans first. Our mission is to turn average citizens into crazy music nerds like us. Digital distribution in general and Play in particular give us unique power to make that happen, and we take that responsibility very seriously.
Thank you.
Q&A
Audience Member: So I agree with actually quite a bit of what you had to say but it sounded like dangerously close to implying that music hasn't been devalued somehow. Do you care to elaborate on that part, because you were pretty clear on the rest of it, I think.
Tim: Yeah, I meant what I said very very literally:
You cannot devalue music.
That doesn't mean that the perceived value of music hasn't changed and the value to artists of the creators of particular music in particular contexts isn't different today than it was yesterday, but that's a wholly different thing than changing the value of music.
Audience Member: So I understand what you're saying. I would be very careful to say that lamenting or moaning, it's very easy to say that if you work at Google. If your livelihood depends on recorded music having value, you have to focus on that bottom tier especially for independent artists. The top tier, the big money winners, that's very different.
Tim: The top tier, look, I'm not just a guy who works for Google, right.  I'm an artist and a creator as well.  As Peter Jenner said the majority of his artists were unsuccessful artists.  I was, I mean, by my standards I was a successful artist, you know, we had a nice publishing deal, we had a major label deal, we toured a lot, we sold a bunch of merchandise, we had more fans than I ever thought we could, but it wasn't gonna put my daughter through college.  Google is helping me do that.
I would love; I would trade in a heartbeat, the ability to start my band today versus starting my band in 1987.  I just think the opportunity is vastly superior.