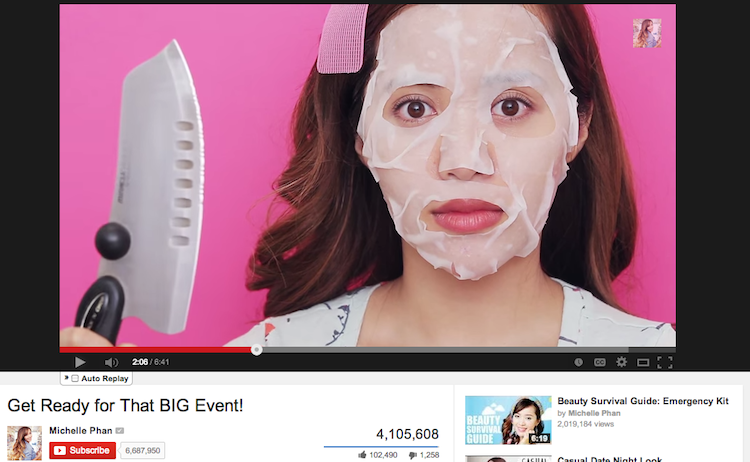 Ultra Records and Ultra International Music Publishing are suing Michelle Phan for copyright infringement.
Michelle is one of YouTube's most popular creators, and her channel has over 6.5 million subscribers. She worked her way up to these numbers by posting quality makeup tutorial videos. She's basically become a household name for the makeup-using YouTubers of my generation (FYI, I'm 25).
Ultra says that Michelle illegally used their music in her makeup tutorials, and that the infringing videos were viewed over 150 million times.  They also say they informed Michelle that she didn't have a license to use the music, but she still continues to infringe.
The complaint specifically names Kaskade as one of the artists whose music was most-used by Michelle.  This is pretty ironic, considering Kaskade wrote this statement on his blog last month:
"There's always been this cagey group of old men who are scared to death of people taking their money.  Back in the day, they were upset that the technology existed to record onto cassette tapes directly from the radio. "What! (Harumph!) Why will people buy music if they can just pull it out of the air?!"  Yet, people still bought music.  Because it was more accessible.  Because more people were exposed. Because Mikey played it for Joey on the corner and then Joey had to have it. It's music, and we buy what we love.  We can't love music we haven't heard.

Innovation helps the music industry. The industry only needs to make the effort to keep up and adapt. Make no mistake: exposing as many people as possible to music – all music – is a good thing. Everyone wins. The artist, the audience, even the old guys who just want some more cash."
Ultra is seeking $150,000 for each song used, or unspecified damages.
If Ultra wins this case, it'll mean that tens of millions of people who were exposed to their artists' music will no longer be.
Michelle Phan has tremendous influence, and it would make much more sense for Ultra to try and form a partnership with her.
Nina Ulloa covers breaking news, tech, and more. Follow her on Twitter: @nine_u