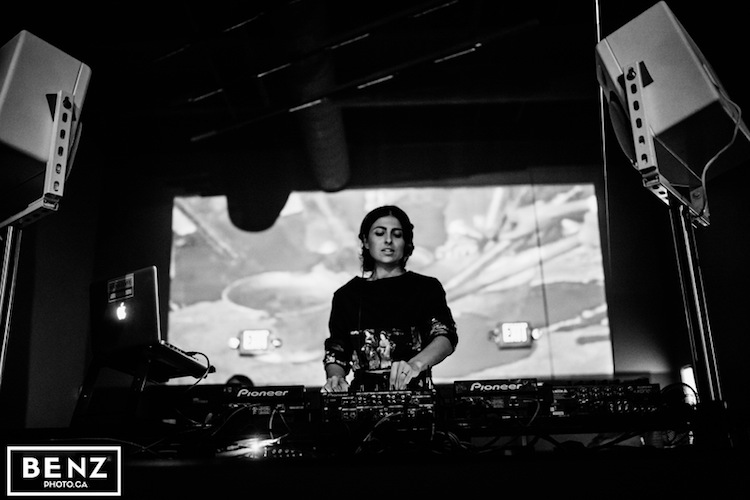 At Seattle's recent Decibel Festival (yes, I keep on writing about it) I had the pleasure of seeing and interviewing a DJ and producer I've been really excited about, Anna Lunoe.
Lunoe is a triple threat: she DJs, produces music, and sings, although most of her live appearances have been DJ sets thus far. This year she played/will play Coachella, Lollapalooza, HARD Day of the Dead, and many other festivals.  She tours constantly.
Her style is varied, as far as alternative electronic music goes. She's able to create perfect-sounding electronic pop, and then turns right around and produces heavy, experimental bass music. She's released EPs on labels like Ultra, Future Classic, and Skrillex's NEST, and has collaborated with many artists including Flume and Totally Enormous Extinct Dinosaurs.
[soundcloud url="https://api.soundcloud.com/tracks/138092494″ params="color=ff5500&auto_play=false&hide_related=false&show_comments=true&show_user=true&show_reposts=false" width="100%" height="166″ iframe="true" /]
+OWSLA's Nick Thayer: "Do You Wanna Know Just How Much Money I Make?"
She is also one of my barely-kept secrets for finding new music, through her many Spotify playlists and her monthly DJ mix podcasts.
About two years ago, Anna Lunoe uprooted from Australia and moved to Los Angeles. She had an established career in Australia, playing the club circuit and hosting a radio show. So far the move has paid off, leading to some big releases.
I wanted to know more: she's very dedicated to her craft and has taken the time to stay true to her vision.  She's also very open with her fans, engaging with them online.  However, she doesn't take shit.  She calls out sexism when she sees it and has started some meaningful online discussions, such as this one about the number of women playing dance music festivals.
In a recent interview with THUMP, Anna Lunoe said:
"In Australia, the market is super educated and super small.  There's only a few clubs that play alternative dance music, so if you play it, you have to be able to play all alternative dance music.  If you listen to my sets, like the Diplo and Friends mix or my Coachella set, it's really evident that I've always played all over the place.  It makes sense that I would want to do that in my productions as well."
[soundcloud url="https://api.soundcloud.com/tracks/150462828″ params="color=ff5500&auto_play=false&hide_related=false&show_comments=true&show_user=true&show_reposts=false" width="100%" height="166″ iframe="true" /]
I wanted to know if Lunoe's eclectic productions are a product of Australia's dance music scene, or if she's always had such varied tastes.Me: Have you always been into a lot of varied music? What was your relationship with music growing up?
Anna Lunoe: "I grew up listening to what my brothers were into, what my dad was into, what was on the radio, and what was on the music video channels, just whatever I could get my hands on. My big thing was, whenever my brothers would leave the house I would run into their rooms and listen to their music and try not to scratch their CDs.
I just picked up bits and pieces and tried to put a puzzle together regarding what I liked, what was supposed to be cool, and what I thought was cool. I just had a curiosity."
Does that play into why you are involved in so many areas? You DJ, produce, and sing, what led you to that?
"It's really weird how it all came about. I wrote music and learned instruments when I was younger.  I wrote music on piano and guitar as a teenager, but then I started DJing when I was just out of school.  I knew that I wanted to make music, but I didn't really understand how it was all connected together.  I just learned one skill at a time.
So, first I started DJing and I started DJing one type of music.  Then I'd start DJing a different type of music.  Then I learned how to use Ableton.  I started playing around with it and made beats, mashups, edits, and mixtapes.  My skills in that area just slowly developed.
I started using my voice to write and then I started thinking about how I wanted to produce my voice and if I wanted to write words.  It all happened one little step at a time."
Are you working towards singing live, or are you going to stick to DJing for a while?
"I do want to do a live show, definitely.  I think that would be really, really fun.  I don't know what it will look like.  I'm starting to really think about it now.  I don't think it works to sing while DJing, it doesn't really feel natural and it doesn't suit the feel of my DJing.  It would have to be something a little bit different, put together, and structured.
Yes, I am working towards a live show but I don't know if it'll happen.  I don't know if I'll be good enough to sing live or if I'll enjoy it.
I feel very comfortable on stage.  The few times that I have sung live I've felt very comfortable and haven't stressed about it.  I don't want to make a big deal about it to myself, I just want to start doing it for fun and make sure everything feels fun so I don't stress out.  I have to remember how much performing I've done over the past eight years.  I just want to have fun with whatever I do."
Can you talk about your career in Australia before you made the move? In the states we don't really hear about what you did beforehand.
"I did what I do here back there in a big way.  I played the coolest clubs and the best music festivals.  I did it all a few times over and felt like I was ready for the next challenge."
You also had a radio show.
"I had a show on FBi, which is like the equivalent of KCRW. It' a really fun, great community station with really great music opportunities. We were the first to play a lot of really big artists like Flume, The Presets, and Cut Copy.  It all starts at FBi.  It's a really amazing breeding ground.  It's where I met a lot of people that I ended up collaborating and making music with over the years.
I had a dance show on there starting in 2007 maybe, which I did up until the week I left in 2012. I was doing it for a long time, every week, live new dance music.
I did Ministry of Sound compilations.  I toured every corner of Australia.  I did all fashion events.  I did a bunch of stuff!"
What prompted you to move to LA?
"I was touring America as well. I was supporting a lot of DJs when they came to Australia and they'd always be like: "Oh! Come to America!".  I came and played parties with them and toured around a bit.  I got a feel for the different cities, New York, LA, etc.  I started noticing a change in LA between 2007 and 2009.  In 2011 I noticed that it was really becoming a dance music city.  The lifestyle really suited me in LA because it's more like Sydney than New York.  I lived in New York before and found it to be a really full-on place to live, as much as I love it.
LA just seemed like a really good choice, and it's very central.  Life just pushes you in different directions, you don't really know why you do something, you just do it."
Could you talk about the gear you use to produce and record?
"I have a pretty simple home setup.  I work in Ableton and I have a Babyface sound card. I have some nice plugin synths, nothing too fancy.  I have Korg M1, Sylenth, Synth 1, TAL, Minimoog, and bunch of pretty basic synthesizers.  I do a lot of sampling, I have a lot of samples that I find online and process and mess with.
I also use my voice.  I have a Casio keyboard that I was given a couple years ago, which has good sounds.  I have an Axiom as well, some MIDI keyboards, and bits and pieces.  I have some percussion stuff, just some weird little instruments that I've picked up on the way that I can pull in and sample weird noises."
You're really active on social media. You interact with your fans on a regular basis and invite them into your discussion, such as asking for input on playlists, etc. Do you feel that having that direct relationship has impacted your career?
"I don't know if it has. The internet is weird and your relationship with the internet has to feel as natural as possible.
Sometimes a record label will be like "You should say 'Hey guys! Everybody retweet this!'", and I'm like "No, people don't want to do that, I don't want to do that".  You just have to trust your instincts with the internet and do whatever feels natural to you.
Maybe when I moved to America I felt nervous again, and had to prove myself.  But now I feel very comfortable again, and I feel very comfortable with the people who come and watch me play.  I talk to everybody and I want to keep that going online.  I think the cool thing about being very approachable with people is they treat you like a person not like an object.
People are fucking weird on the internet. They say really awful things to people. It's like no one realizes that they're actually saying it to someone. I feel like everyone who gets involved in my sphere, because I'm so approachable to them and I meet them after the show and I take photos with them, its like I'm their friend. They treat me with respect and I treat them with respect, it's mutual and it's cool.
Sometimes, every now and then, someone will write something on my photos.  I'll just be thinking to myself "They don't even think I'm real. They don't think I'm a real person at all."  They're saying the nastiest, meanest, sexual, aggressive, weird shit.  It's like, "Would you say that to someone?".  I think that people do that when they think that you're not real and when you're not approachable.  That's why I keep an open dialogue.
If people have a question, criticism, or are negative, I'll write back to them.  Like, this guy wrote to me once after my Diplo and Friends mix.  He wrote: "I checked out your mix on Diplo and Friends. Same commercial crap as everybody else."  It's always a local DJ, it's some DJ somewhere.
I wrote back to him.  I was like: "Hey! It's all good if you don't like what I do but don't tell me that it's fake because I really care about this.  I research and work my heart out to do what I do.  So, if it's not your personal taste that's fine, but don't hit me up and tell me that my shit is bullshit."
This guy, we had this long conversation.  In the end, he's now writing to me all the time, sending me all his songs*Laughs*.  Of course he's like: "Check out my new track!".  He listened through all my mixes and sent me critiques on every one, like: "It's obvious that you have a very in-depth knowledge of dance music.  I just got upset because you put in a song that had those trappy hats.  I got pissed off because I used to like Diplo and now blah blah blah."
People have so much shit going on and they say the dumbest stuff.  I just think it's important to pull them up on it.
"Uhhh, you don't know shit about me. You have no idea what I've done or where I've come from to get to this point. So, don't hit me up and say bullshit when I've been doing this since you were in preschool, kid."… Just kidding *Laughs*… Probably."
But really!
"But really! Lol, joke… But seriously."
Your All Out EP just came out, which is huge. You have tours here and in Europe coming up. What's after that?
"Sleep! But… the America tour, then the Europe tour, and Holy Ship! in February.  Then I've got to go back to Australia and do some shows there.  Honestly I have no plans for next year, I don't know what I'm going to do . I'll just keep doing what I do. Stuff just has a habit of turning up in front of me."
[soundcloud url="https://api.soundcloud.com/tracks/168620239″ params="color=ff5500&auto_play=false&hide_related=false&show_comments=true&show_user=true&show_reposts=false" width="100%" height="166″ iframe="true" /]
Do you hope to do a full length album?
"I don't know if full length albums are the climate for what I do. I think that EPs work really nicely. Some of those tracks on the EP I've been sitting on for over a year. I don't want to sit on stuff, I want to get it out. Musically, after this EP I want to do a bunch of tougher club releases.
I've done a really nice collaboration with Sleepy Tom which will come out this year. I've done a bunch of cool collaborations with different artists that I don't want to talk about until they're finished.
I'm doing a couple of really tough club releases because the EP was very vocal, happy, and housey. I want to keep counteracting and stressing everybody out with what exactly I'm going to play."
__________________________________
Check out Anna Lunoe's Facebook, Twitter, and SoundCloud.
Nina Ulloa covers breaking news, tech, and more for Digital Music News. In her spare time she heads music blog West Coast Fix. Follow her on Twitter: @nine_u
Photo from Decibel Festival by Michael Benz