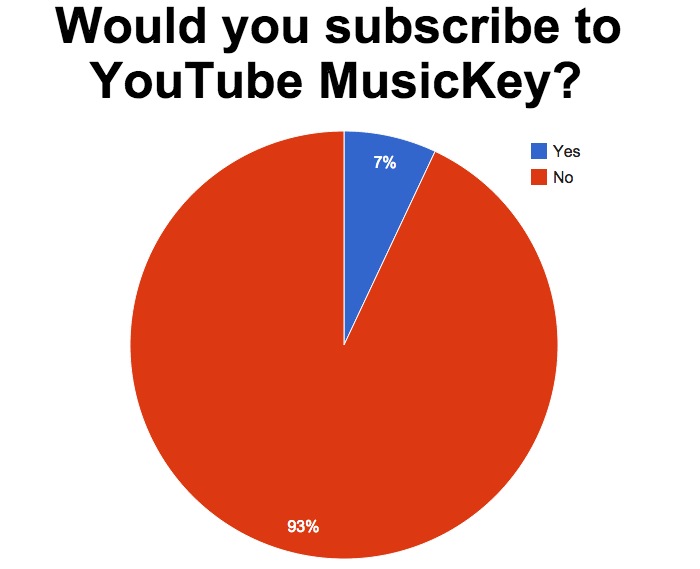 MiDIA Consumer Research Study (UK), n=1000.
It's not the ones that will subscribe to YouTube's upcoming music subscription service.  It's the one's that won't, and will never pay for streaming as long as YouTube's free service is available.  "Just 7% consumers say they would pay for a YouTube subscription service without ads and including extra content (little surprise considering Google makes it so easy for consumers to get apps like AdBlock and YouTube rippers)," relayed MiDIA researcher Mark Mulligan.
"But 25% say they will never pay for a subscription service because they get all the music they need for free from YouTube.  The net balance is clearly negative."
"If we discount both rates and apply them to the US and UK population, Music Key would contribute about $400 million dollars in revenue in one year but would be responsible for more than $2.6 billion in lost subscription revenue, meaning its net impact would be around -$2.3 billion."
Welcome to a world where promotion and product are the same thing.  "YouTube is more important as a promotional platform to labels and artists than ever but the demarcation between discovery and consumption is becoming indistinguishable," Mulligan continued.  "For most YouTube users, it is the destination not the discovery journey.  It is time for more record label execs to understand that their advert is now actually the product too."
Written while listening to Diplo and M83.  The full report from MiDIA is available here.