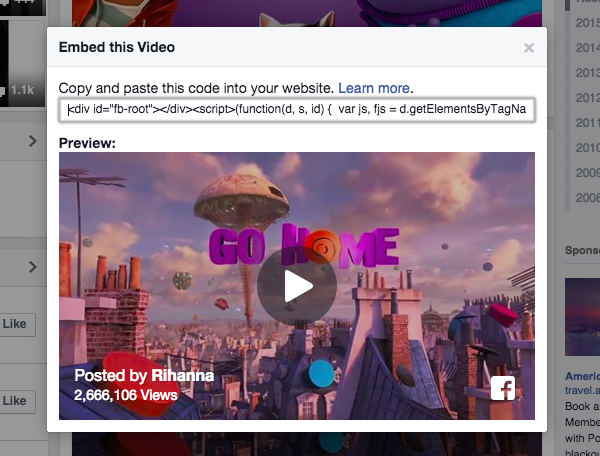 Facebook videos get 3 billion views every day, but up until now there wasn't an easy way to embed videos on other platforms. YouTube says they have "billions of views" per day, but don't specify an exact number. YouTube hit 4 billion views a day in 2012. In other words, Facebook is catching up.
Facebook video had downsides. You could embed the Facebook post that contained the video, like Ari did in this article, but you couldn't embed the video by itself.
+Twitch Will Exclusively Stream All of Ultra Music Festival
All that has changed.
Facebook announced numerous new features at their F8 developer conference. One of the big changes is the ability to embed videos. See below:
RiRi takes a ride with Oh! Are you ready for Home?

Posted by Rihanna on Saturday, March 21, 2015
The Facebook Video API also has new features.
Features include scheduling post times, video availability by region, larger video capacity, and improved analytics.
The downside? There's no way to monetize videos yet.
Facebook is also expanding Messenger into an entire platform. This isn't entirely surprising since the messaging feature was moved to a dedicated app. Facebook also recently added a payment feature to Messenger.
The new platform will make it easier to integrate and share content from other apps on Facebook Messenger. The platform will also support GIFs and sound clips.
The company also plans to launch Business on Messenger, a service that would allow customers to have direct interaction with companies.
Nina Ulloa covers breaking news, tech, and more: @nine_u