SFX Entertainment's shares aren't doing so well. The industry knows it and CEO Robert F.X. Sillerman knows it. This isn't very surprising, considering SFX's strategy is to buy up companies so they can cash in on the EDM boom.
Sillerman recently proposed a plan to buy up shares and take the company private again. He proposed a price of $4.75 per share. SFX is currently trading at $4.32.
+Women in Electronic Music Deserve Equal and Positive Media Coverage
Wall Street wasn't too happy with Sillerman's offer. The company went public in October 2013 with an IPO of $13 per share. They've been in a constant state of decline ever since…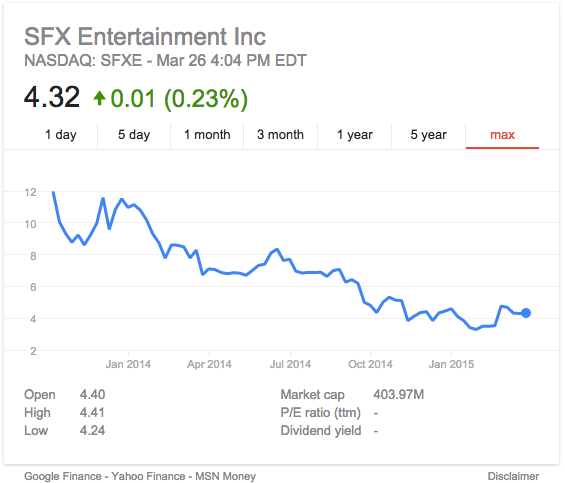 So what secret ingredient is SFX missing? Is it a streaming service? A FREE streaming service?
Well last month SFX-owned Beatport was converted into a streaming service. Beatport's digital music store is still around, but now it's called Beatport Pro.
The streaming service is free to use and it doesn't even have advertisements.
As of last month accounts were offered by invitation only, but it didn't take long to get an invitation after joining the waitlist.
Beatport has now launched a free music streaming app to go with the desktop service. The company says the service offers millions of tracks. Thankfully, this service isn't as robust as other services that have advertisements and paid accounts.
The Beatport app seems focused on pushing ticket sales to events, which makes sense since a number of EDM events are now owned by SFX.
Beatport has partnered with Bandsintown to bring event listings to their app and website. The ticket links can be slow to load in the Beatport app, but the Bandsintown mobile experience isn't known for being perfect.
Other app features include Beatport curated playlists, recommended tracks, search, and a list of favourite songs and artists.
The app is designed to showcase hot tracks from the Beatport Pro store, probably in hopes that users will go buy the tracks. But as of now there's no way to buy Beatport tracks from the app.
Nina Ulloa covers breaking news, tech, and more: @nine_u