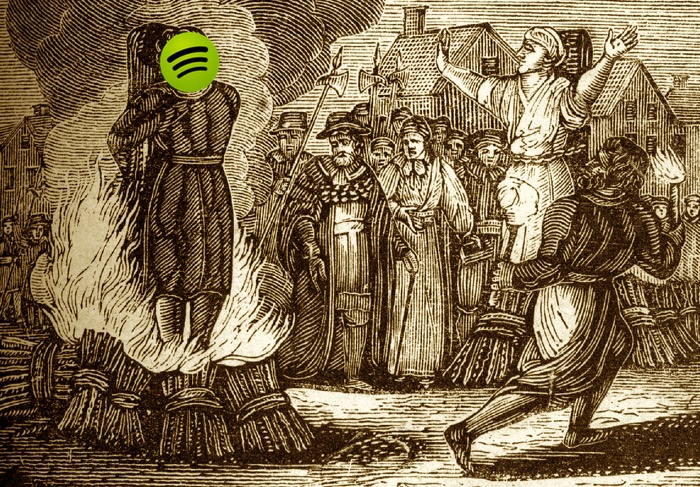 Warner Music Group sucks at making money, though they did make a small profit last quarter.  Part of the reason is streaming, which now brings in more money than downloads.  With that in mind, Warner Music CEO Stephen Cooper had this to say to a group of investors and stakeholders.
______________________________________
Q2 2015 Warner Music Group Earnings Conference Call, NYC.
Monday, May 11, 2015, 4:30 pm EDT.
(Q&A Session)
Moderator: Our next question comes from the line of Davis Herbert of Wells Fargo Securities.
Herbert: Good afternoon everyone, thanks for taking my questions.  There's been a lot of debate about the freemium versus premium models, especially with Apple's pending launch of a premium product.  Do you feel like the industry is in more of a position to proactively move away from the ad-supported model?  And second part of that question is, Spotify and others have said if that's the case, there would be a resurgence in piracy, and I'm just curious if you believe that, thanks.
Stephen Cooper (Warner Music CEO): Let me start with just our particular point of view, as opposed to an industry point of view.  You'd have to cast a much wider net to get the industry point of view, Davis.  First of all, there are a lot of models out there, and all of those models — ad-based, subscription-based, or with both — are better than piracy.
You know to be crystal clear, piracy is zero revenue, it's the theft of intellectual property, and it's not good for anyone.  So all of these models are better than piracy, that's number one.
Number two, the freemium models, if they encourage the adoption of subscribers, if they encourage the movement of subscribers from ad-based models to subscription-based models over time, we at Warner believe that's good news.  We are working with a number of our digital partners to see if there are ways in which that adoption — that is the adoption from ad-based models to subscription, you know if you're an individual on the ad-based model — if that can be turbo-charged though modifications in service offerings, of more sophisticated approaches in the consumer market.  So we don't believe that there is just one size that fits all.
With respect to going to a strictly subscription world, I think that you can find evidence that when music is not generally available, that people will seek out sites on the internet that in fact will offer up that music for no charges, and in many instances, with no economic model, where income flows to the content owners, the artists, or the writers.
So I think that before people conclude that freemium should be burnt at the stake, we should think very carefully about the consequences.
Herbert: Understood, very good commentary.
Image by Robert Benner, licensed under Creative Commons Attribution 2.0 Generic (CC BY 2.0).