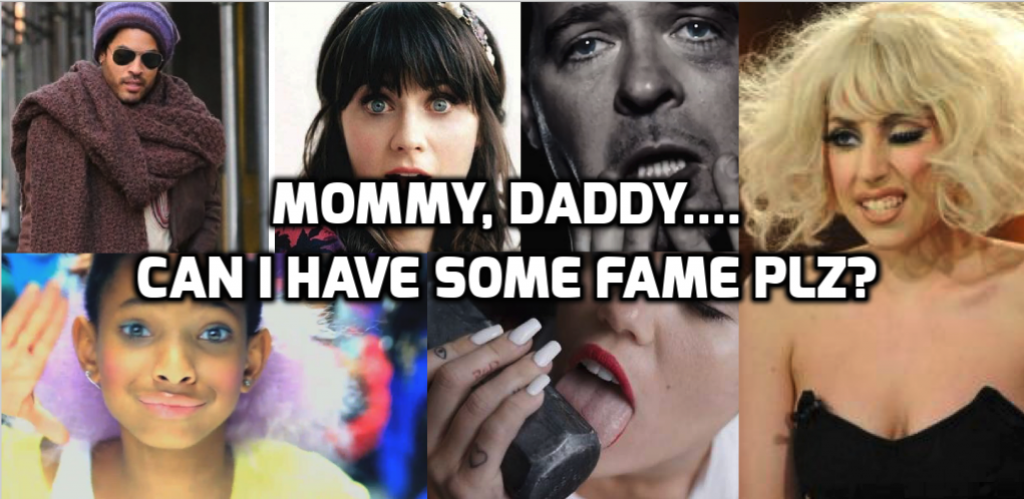 Talent: How much does it really matter in getting to have a successful career in music?
I strive to find artists who became household names based only on their merit and contributions as artists.  There are of course some… and talentless, contrived and label created/driven material has always existed, yet there comes a point where its gone too far.
I wrote about how this has affected independent music in my last article.
But that was just one segment of a much larger issue.  That is: the music industry is in a state of disrepair and no one within it seems to have any interest in changing how they handle their biggest draw; Pop.  Talent, integrity, not being a model but still making it in music, actually being able to write the lyrics and music for their "own" songs…
I'm going to prove to you why nepotism, cronyism and executive laziness are ruining music for everyone.
A lot of people I talk to don't seem to mind that nepotism is so rampant.  Perhaps it's conditioning by the compliant media.  People are made to feel as though celebrities are inherently some kind of specialized royalty.  Every week, millions of people watch shows about people like the Kardashians don't question why these people are famous.  They don't seem to care that they suck and are talentless, they just think 'it's good TV'.
Imagine if there was less nepotism, less cronyism and more talent in the media.  Imagine if people had to actually earn or do something to deserve being in the spotlight that so many people live and breath in aspiration of reaching.
We would have better content across every channel of media and entertainment!
Want some examples of nepotism that are a bit more relevant to music? Cuz' I have some examples… Just for you:
Miley Cyrus: Her father is Billy Ray Cyrus. His heart is achy, and it is break-y. Be on the lookout! (Maybe it's achy because Miley's mom was a groupie)
Willow Smith: Despite being more of a living punchline about the state of the music industry than a musician, the daughter of Will Smith and Jada Pinkett Smith has managed to break into the charts with her laughable song "Whip My Hair". That's just sad Billboard!
Robin Thicke: His father is Alan Thicke (famous for a bunch O' stuff) and his mother is Gloria Loring, a singer and actress.
Paris Hilton: Need I say more on this person… really?
Lenny Kravitz: His mom was one of the leads on "The Jeffersons", his dad was a big-shot producer for NBC and his cousin is Al Roker.
Zooey Deschanel: Musician may not be what we think of first when we think of this person. But there is no doubt that she earned her 'suuuuper indie' cred from music… somehow (maybe she fit in her schedule between making Apple commercials, so hipster). It didn't hurt that her Dad was a cinematographer and that her Mom was an actress.
Lady Gaga: Her father owns a company called "Guest WiFi". They have been supplying WiFi infrastructures to pretty much every hotel there is. Can you say "cha-ching'? I'll bet Ms. Gag – ah could (thus her actual rise to fame)…
Redfoo (LMFAO) and Rockwell: Both of these "artists" are sons of Berry Gordy, the founder of the record label "Motown".  This can be used to explain how these talentless "artists" have gotten to have hit(s).
Zach De La Rocha (Rage Against the Machine): His father (Robert De La Rocha) was a well known artist.
Enrique Iglesias: Is the son of Julio Iglesias, one of the best selling artists of all time.
dis-Honorable Mentions for cronyism: (I'm only going to skim the surface on this one because it's more difficult to identify who is friends with who)
Here are just some of Disney's mouseketeers: Ryan Gosling, Justin Timberlake, Lindsay Lohan, Miley Cyrus, Zac Efron etc… Clearly a lot of "talent" in one place…
I could go on and on and on and on and on etc… but lets focus, shall we?  If there was less of this bullshit, there could be better music getting heard by everyone, that means you. Even corporate conglomerated radio would have to up their game and play some music that wasn't made for marketing purposes.
Sure, you'd still hear some really bad stuff, but any improvement is a good thing. More importantly, that won't be all that exists within popular music.
Contrived music doesn't have to be the only pop music!
Let's take a long and hard (….LOL) look at how the music industry operates and analyze their motives.
Once upon a time, people scoured the globe in search of the next sound and the talent that they wanted to be associated with their brand. Agents would have to go to shows constantly to find that talent and recruit them. There was backstabbing, corporate greed, people skimming off the top of every payout, corruption, relationship drama, horrible practices that affected the rights of the artists with their intellectual property…. Hang on, I am going somewhere with this…
While all this crappy stuff was happening in music, there was something that there just isn't anymore. That one thing is overwhelming talent and yet to matched quality and consistency thereof, gracing the ears of listeners around the world. While the industry was becoming more volatile, there WERE at least some people who actually liked music that were involved in it. I think that is the biggest difference.
You're probably starting to wonder what my point is… That's fair.
Here's my plea to the listeners of the world.
STOP ACCEPTING THIS!
There is still great music that is still being performed everyday, around the world and performers who can still write their own music and lyrics. There are still fresh and interesting ideas within music.
Stop listening to the easily accessible radio garbage, stop playing it at your stores and restaurants and stop buying it for your kids based on trends or fads.
Once you realize that music is literally only a commodity to the people that ultimately control what the masses hear from within the music industry and that it has absolutely nothing to do with art or expression. The fact that every listener is nothing more than a wallet with legs to them.
But, you can also see how all that can empower you.
We listeners are fueling the fire, if we stop giving them our money, attentions or both… maybe things will change and the industry will actually have to adapt to what people want.